2018 Policy Forum Presentations
The Road Map to Mental Health Reform lays out what the state must do to create a strong mental health system. Our partners in moving this agenda forward include advocates, providers, individuals with lived experience, families, and policymakers from across the state.
Illinois' Failing Mental Health System
Suicide – Disability – Opioid Use – Jail for Survival Crimes – Enormous State Costs
All preventable.  Mental health conditions are treatable medical conditions just like diabetes or cancer.
Important reforms are underway or pending federal approval, but much more needs to be done.
Reform Is Critical
Pillar 1. Early Diagnosis and Treatment
Illinois' system focuses on late-stage treatment of mental health conditions. This must change.
Pillar 2.  Building Service Capacity
The foundation of the MH system, Medicaid rates, must be reformed to cover cost/enable capacity growth, coupled with value-based payment, to enable the thousands who can't get care, to get it
Pillar 3.  Building a System of Care for Children and Young Adults
Starting early for children and young adults before mental health and substance use conditions get to a crisis is critical. Illinois must build a full continuum and system of care for children and adults.
Pillar 4.  Improving Insurance Practices and Coverage of Proven Treatments
A massive cost shift to the state happens upon disability. Parity laws must be implemented and enforced.  Illinois must ensure coverage of proven treatments not covered by insurance.
Pillar 5.  Developing the Mental Health Workforce
Illinois does not have the mental health workforce to treat all those who need care.  This is particularly acute in rural areas of the state.  Illinois must develop incentives to grow this workforce.
Pillar 6.  Enabling Affordable Housing through Rental Subsidies
Investment in rental subsidies, combined with treatment (supportive housing), will stop the cycle of hospitalizations and justice system involvement for those disabled and left homeless by their disability
Treatment Makes Fiscal Sense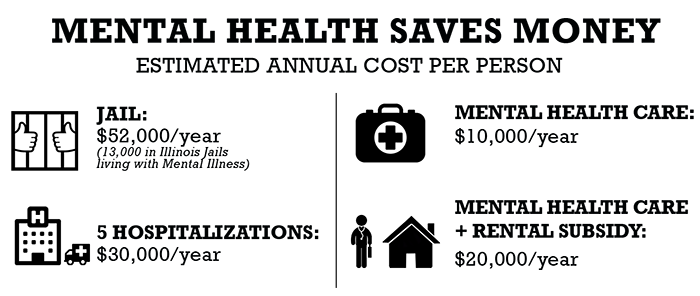 Taking Action? Check out our advocacy resources:
Talking Points and Tips on Writing a Letter to the Editor
5 Ways You Can Take Action
Sign Up to Receive Thresholds' Action Alerts
2018 Policy Forum Presentations
"Transition-Age Youth and Young Adults: Policy, Advocacy and Collaboration" – Dr. Michelle R. Munson, Associate Professor, Silver School of Social Work at New York University
"Progress on Care and Support for People with Serious Mental Illnesses" – Dr. Richard C. Frank, Professor, Department of Health Care Policy at Harvard Medical School
Have Questions?

For more information on the Road Map or how to get involved, please contact:
Heather O'Donnell – Thresholds, Vice President of Public Policy & Advocacy |
hodonnell@thresholds.org