Charlie's Story
Charlie's Story
"I fell in love with this place from the first time I came here," Charlie White, a member of the Thresholds Veterans Project, said as he walked around the Chicago Botanic Garden's annual orchid show. Charlie and his fellow veterans have been participating in monthly horticultural therapy sessions with the Chicago Botanic Garden for the last few years.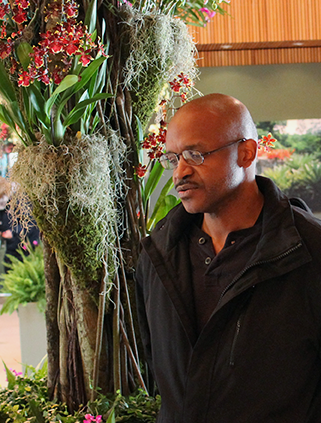 Charlie's mental illness reached its peak in 2012, causing him to lose his job, his home, and all of his possessions. He initially sought mental health services through other avenues, but quickly became frustrated. "I felt like I was on an assembly line, like I was just another number," he recounted.  That's when he came to Thresholds. For Charlie, one of the most important differences is that the staff members at Thresholds Veterans Project are former veterans themselves. "You can tell the difference with Thresholds, especially when it comes to veterans.  As a veteran, I suffer from PTSD and bouts of depression. They can sympathize better, they can relate better. Veterans taking care of other veterans is what really got me to turn towards them. They don't put you on the back burner. It's restored my faith in people, and my trust too".
Through the support and guidance Charlie found at Thresholds, much of his life has changed. He's been able to go back to school, had several internships, and even acquired an apartment. While regaining some of these pieces of his former ambitions means a great deal to him, the spiritual gifts seem to be the most important. To his surprise, learning Yoga from his case manager Pierre has helped him view life entirely differently. "Yoga has taught me how to rethink things," Charlie said. "The breathing techniques, the different poses… I have tools now that I can use when I feel myself spiraling into that depression. I'm learning how to rethink situations and deal with them better."
As Charlie walked around the orchid show with his head held high, slowly breathing in the fresh warm air, he shared what he's accomplished since joining Thresholds Veterans Project, including feeling reconnected with his love of nature. "Coming here brings me a lot of joy, it's just so peaceful," he said gazing out at the thousands of orchids in the sun-drenched greenhouse. Charlie now makes pilgrimages to other spots of natural beauty for moments of quiet, personal reflection. Most recently, Charlie will begin an internship at the Chicago Botanic Garden's Living Plant Documentation Department, an opportunity he lights up with pride to explain. "Thanks to Thresholds and the horticulture here, everything's kind of turning around".
Looking forward, Charlie hopes to start traveling again, but says his top priority is to nurture his newfound peace and balance. "My main goal is to keep mentally healthy and stimulated. I know there's no magic pill. When I look back at those moments of deep depression… like you're down in the earth and so stuck you don't know where to go… I don't want to ever get like that again," he explained. "Cause if I can keep that together, all the other stuff will fall into place. I'm like, 'Wow! It's happening,'" he smiled quietly in reflection. "It's really happening."