A Day in the Life at Thresholds
By Lydia Zopf, Program Director of the Thresholds Veterans Project
6:00 AM – I'm up bright and early. I get myself ready and throw the essentials in my work backpack –  tablet, snacks, water, pencil pouch, cell phone, and 3 small gifts to raffle off for staff appreciation.
7:15 AM – I'm at the Thresholds program site, and we're getting ready for the day: hot coffee is in the kitchen, the multipurpose room is set up for an iRest meditation group, we have fresh pens and welcome signs for new staff, I complete an inventory of our naloxone (a medication to interrupt a drug overdose) supplies, the "Boss Board" is updated with information and announcements for clients, and Motown music can be heard in the background.
8:30 AM – There are two veteran clients waiting in the lobby, eager for their 9:00 AM appointments. One client is currently homeless, and he's here today to get ready to meet with his new landlord and sign a lease to his very own apartment. The other client is wearing dress pants and a tie, nervously fidgeting as he prepares himself for a job fair.
10:00 AM – I check my email: I approve the proposed schedule of retreats at Chicago Botanic Garden, send a STAR award (given to Thresholds staff members who went above and beyond) to the Recognition Committee, review a draft of a grant proposal, ask another program director for ideas about where a veteran client can board a pet while he is out of town for a few weeks, send out a calendar appointment for Clinical Supervision at the end of the month, remind my LCPC (Licensed Clinical Professional Counselor) group to review an article before our next meeting, and confirm the day/time that YAP (Thresholds Young Adult Program) clients will come to our site and serve a meal to the veterans.
11:15 AM – The team leader and I hit the road. We stop by a client's apartment to help him pay his rent and show him how to call the pharmacy to refill a prescription. The client is upset about a fight that took place down the block last night, so we spend some time helping him create a plan to stay safe and set up a time to visit him later in the week. Then we stop by a Puerto Rican restaurant to pick up sandwiches for lunch. Finally, we arrive at a school and walk into a 4th grade classroom, where 25 nine-year-olds have a long list of questions for us – What was it like to be separated from your family while you were deployed overseas? What was it like coming back home? What does a community support specialist do? How do you teach veterans about meditation? The Veteran Team Leader and I do our best responding to their questions, but we soon realize that these 4th graders already hold the key to the universe. I jump in an Uber to get back to the office while the team leader goes off to another visit with a veteran.
2:45 PM – Back at the office, I send out an email to my staff to announce the winners of three gadgets I raffled off (a selfie stick, a stylus pen, and a tablet cover). Staff also share suggestions for self-care in a long "Reply All" email chain. I clean up one of the group rooms and put art supplies away. I send a quick text message to confirm dinner plans (tacos, again). I help a new staff person finalize a care plan for a client and explain what a natural support is. I sign three more care plans and an annual MHA (Mental Health Assessment). I return a few phone calls and confirm my meetings for tomorrow.
4:30 PM – I'm getting ready to leave for the day, and a client shows up unexpectedly. He lost a file folder that contained personal documents and copies of applications for various public aid services. He has an appointment with CHA (Chicago Housing Authority) in the morning and doesn't feel prepared. I invite him in and set him up in the computer lab, where he checks his email and Facebook. I look through his records and find the information he needs, make copies, and hand him a new file folder with everything for his appointment tomorrow. I can tell he is relieved because his shoulders are relaxed and his breathing has slowed a bit. I help him plan ahead for the morning: he sets an alarm on his phone and double-checks the CTA route. After he leaves, I document everything in Smartcare (Thresholds' electronic record keeping software) and send a text message to the CSS (Community Support Specialist).
5:00 PM – I'm finally ending the day. In my car, I roll down the windows and put on the latest episode of The Moth. I take a deep breath and remind myself how grateful I am to have a home, good health, and a great deal of hope.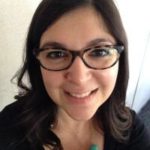 Lydia Zopf is the Program Director of the Thresholds Veterans Project. The Veterans Project includes homeless outreach, housing services, supported employment, peer-driven supports, substance use treatment, integrated physical and mental health services, and trauma-based therapies. Learn more about the Thresholds Veterans Project here.