Free Women Veterans Film Screening on May 16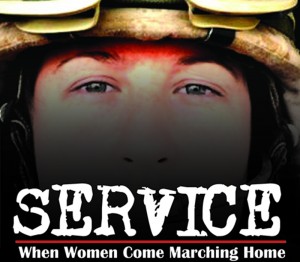 Please join us at a free screening of the documentary film Service: When Women Come Marching Home. The film portrays the courage of several women veterans as they transition from active duty to their civilian lives, a process that requires them to deal with trauma, invisible and visible injuries, and challenges in receiving benefits and care.
Through our Veterans Project, Thresholds has gained a keen understanding of the unique challenges women veterans face and the pressing need for women-centered veteran services. With the upcoming launch of the Women's Veterans Health Project, Thresholds is striving to provide unparalleled community-based care for past and current servicewomen, working with the VA and other community partners to help them live stable and productive lives. We hope that you'll join us for this powerful film and panel discussion to learn more about this worthy cause.
Thursday, May 16, 2013
Roosevelt University – Wabash Building, Room 612
425 South Wabash Avenue, Chicago, IL
5:00 pm – 6:00 pm Reception with appetizers and wine bar
6:00 pm – 7:00 pm Film screening
7:00 pm – 8:00 pm Panel discussion
Cost: Free
Please send RSVPs to Emile Dawisha by May 15 – email him or call 312-252-5207.
Discussion Panel
Marcia Rock (moderator), documentary filmmaker and co-producer of SERVICE: When Women Come Marching Home
Rochelle Crump, President of National Women Veterans United
Laura Gallagher Watkin, Director of Veteran Programs, Health & Disability Advocates
Jenny Garretson, Women Veterans Program Manager, Jesse Brown VA
Catherine Sevedge, MST Counselor, Oak Park Vet Center
Andrea Holloway, Community Support Specialist, Thresholds Veterans Project
Presented by Thresholds, Jesse Brown VA Medical Center, and the Oak Park Veterans Center.
Film by Marcia Rock & Patricia Lee Stotter is underwritten by DAV.