Gay Pride Parade 2013
Thresholds at the Gay Pride Parade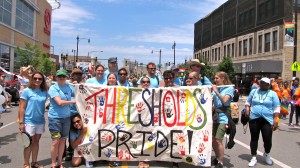 Thresholds participated in the Chicago Gay Pride Parade for the first time this year, and it couldn't have been a better. Staff, members, and other supportors marched alongside hundreds of other Chicago organizations in a celebration of diversity and LGBT pride.
More than 1 million spectators attended the parade on a clear, mild day on June 20th, lining the route on Broadway and Halstad streets. Thanks to all who participated in this years' parade – we can't wait to see you again next year!
Check out more pictures from this year's event here.