Governor Quinn Signs Mental Health First Aid Training Act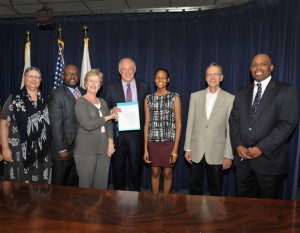 On Wednesday, August 7th, Governor Quinn signed HB 1538 Mental Health First Aid Training Act into law, PA 98-0195. Thresholds' Shirley Helm was present for the bill signing ceremony at the Thompson Center in Chicago, along with fellow witnesses , HRDI; Claudia Kottwitz and Natalie Robinson, C-4; Bob Hewitt, LSSI; and Marvin Lindsey, CBHA.
Governor Quinn spoke briefly about the importance of this legislation, and also the current work being done by community providers like Thresholds. Thresholds has multiple staff members who are certified as mental health first aid trainers.
Thresholds commends the Governor's support for this important piece of legislation. Training community representatives in schools, businesses, and more to recognize signs of mental illness is an important step in ensuring that every receives the support and treatment they need to move into recovery.