Governor Quinn's Plan for Illinois Healthcare Transformation a Step Forward for Mental Health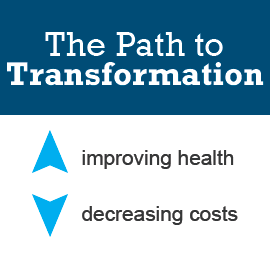 Today, Illinois Governor Pat Quinn announced "The Path to Transformation", an ambitious five-year plan to remake healthcare in Illinois by utilizing $5.2 billion in federal funds through a 1115 Waiver demonstration project. The innovative and far-reaching plan will modernize infrastructure and lower costs in the long-term, utilizing many of the concepts Thresholds touched on in our recent policy brief.
If federal approval is granted for the plan, Illinois will be taking a large step forward in rebuilding the behavioral health and affordable housing safety net that is so crucial for some of our most vulnerable citizens. Thresholds is excited to see the state creating a plan to make long-term investments in our systems that will pay dividends both in cost savings and health outcomes for Illinoisans for years to come.
"Illinois has made tremendous progress in recent years reforming and improving our healthcare system to control costs and deliver better quality care," Governor Quinn said in a press release from his office. "This plan will help take our healthcare system to the next level – improving the health of people and communities across Illinois while significantly lowering our long-term costs."
The waiver works by granting federal matching funds to supplement programs and services that would normally be funded solely through state resources. A full draft of the plan is available online for review, and there will be public hearings to discuss the draft on February 14 and 20 (see below for details).
"The Path to Transformation plan is an opportunity for the state to garner federal funds to make badly needed investments in the community behavioral health and supportive housing infrastructure," Mark Ishaug, the CEO of Thresholds, a major mental health provider and advocacy group, said. "We are confident the waiver will result in improved health outcomes and reduced Medicaid costs over the long run."
Thresholds applauds the new plan for focusing on improving access to community-based care options for persons with disabilities and mental illnesses. Community care is not only proven to improve health outcomes and promote recovery, but it is also significantly less costly to the state and federal government over time than institutional care. Increased funding through the waiver would allow the state to improve their service delivery system and demonstrate results in the triple aim: reduce costs, improve health outcomes, and improve the experience of care.
According to the Governor's office, the initiative is being headed by the state's Office of Health Innovation and Transformation (OHIT) on behalf of the Illinois Department of Healthcare and Family Services, the Illinois Department of Human Services, the Illinois Department of Public Health, the Illinois Department of Children and Family Services, and the Illinois Department on Aging, and other agencies.
PUBLIC HEARINGS
Friday, February 14
9 a.m. to 12 noon 
Howlett Auditorium
Michael J. Howlett Building
501 South Second Street
Springfield, IL 62756
Thursday, February 20
2 p.m. to 5 p.m.
Assembly Hall Auditorium
James R. Thompson Center
100 W. Randolph Street
Chicago, IL 60601