Governor Rauner Signs Early Mental Health and Addictions Treatment Act
Thresholds championed bill that provides early interventions for young people that prevent lifetime of disability and illness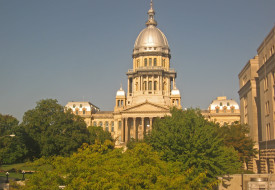 Chicago, IL – Today Governor Rauner signed the bi-partisan Early Mental Health and Addictions Treatment Act into law.  Illinois will be the first state in the country to cover early treatment models through its Medicaid program if the federal government approves coverage. This early treatment is tailored for young people who have early signs of a serious mental health condition such as bi-polar disorder, severe depression or anxiety. Thresholds, in partnership with the Healthy Minds Healthy Lives Coalition, led the charge with a group of legislative leaders to address a glaring gap in Illinois' continuum of care for mental health and substance use conditions.
Early treatment can prevent costly institutional care for individuals with mental health and substance use conditions – particularly use of jails as mental health treatment centers. Mental health community treatment costs a fraction of treatment in jail (74% less) or hospitalization (95% less).
Illinois, and the nation, are grappling with a long-standing mental health crisis.  People of all ages who have treatable mental health conditions go without treatment for years due to stigma or a lack of access to the right treatment. This all too often leads to debilitating symptoms, high suicide rates, and substance use for self-medication. This legislation will stop that trajectory for thousands across our state and enable early treatment aimed specifically for adolescents and young adults so they can be well and thrive in life.
"We know through research and practice that early intervention is key to reducing lifelong impact of serious mental health challenges.  In Illinois, these mental health challenges often have to worsen to the point of disability before comprehensive, targeted treatment is covered.  This bill takes the important first steps to address that gap," says Marc Fagan, PsyD, Vice President of Clinical Operations & Youth Services at Thresholds.
The legislation also takes steps to address the state's raging overdose epidemic by allowing substance use treatment to be delivered in a person's home or other setting, instead of solely in a community clinic. This approach has shown success in helping individuals cope with everyday life triggers that have led to the substance use, but until now, this type of treatment has not been covered through the state's Medicaid program.
"Outreach models are incredibly effective for mental health conditions, and evidence shows us that this treatment model can be just as useful for individuals struggling with substance use," says Gabriela Zapata-Alma, Program Director of Substance Use Treatment at Thresholds. "For many, delivering care in a real-life setting outside of a clinic or institution can be the key to recovery."
We want to thank Sen. Melinda Bush, Sen. Dale Righter, and Rep. Sara Feigenholtz for championing this legislation, all the members of the Illinois General Assembly who voted for it, and Governor Rauner for making Illinois a national leader in early mental health and substance use treatment. To learn more about Thresholds and the Healthy Minds Healthy Lives coalition, visit our website.
Media Contact: Emily Moen, VP Public Relations & Marketing, 715-308-1951