Jerry Dincin
For Immediate Release
March 26, 2013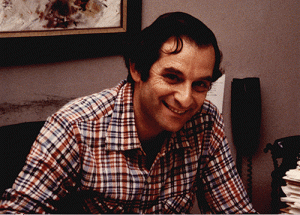 Statement from Mark Ishaug, Thresholds CEO, on the Passing of Jerry Dincin, Thresholds' Executive Direct for 40 Years:
"Jerry Dincin, Executive Director of Thresholds for nearly 40 years, passed away today after a long battle with prostate cancer.
In his tenure at Thresholds, Jerry Dincin amassed a long record of innovation that helped countless people with serious mental illnesses live with dignity and independence. Dincin is an international figure in mental health who utilized his numerous publications and presentations to greatly advance the state of knowledge about mental health.
Dr. Dincin was born August 20, 1930 in Brooklyn, New York. Though Jerry was only 16 when his father died in 1947, he and his mother took over the father's furniture business, but he knew it wasn't the right career for him. He received a Bachelor's Degree from Brooklyn College and a Master's Degree in Sociology at Case Western Reserve in Ohio in 1955. Dr. Dincin later earned his Ph.D. in clinical psychology from Northwestern University in 1976.
In June 1958, he began work at New York City's highly innovative Fountain House, a community-based, psychiatric rehabilitation center led by John Beard that served as a model for many facilities around the United States. 'John Beard inspired me throughout my career to think creatively when working with the mentally ill,' said Dr. Dincin.
Dincin took the helm at Thresholds in 1965, overseeing a staff of five serving about 50 persons with serious mental illnesses. By the time of his retirement in 2003, he had built the agency into one of the nation's premiere mental health agencies. Today, more than 6,000 members each year benefit from Thresholds' comprehensive set of compassionate services, many of which Dincin and his staff pioneered.
'Jerry was a visionary leader for Thresholds and a source of inspiration to all who seek a better and more fulfilling life for persons living with mental illnesses. He changed the lives of everyone who knew him or benefited from his efforts. Jerry was my mentor, friend, and partner, and I will miss him,' says Ron Grais, Thresholds board member.
When he first arrived in Chicago, there were no out-patient programs for psychiatric rehabilitation. 'In 1965, it was unheard of that psychiatric patients could even work,' said Dr. Dincin. 'We started a job program and a housing program, and by the time I left in 2002, we had about 1,000 people living in safe, decent, affordable housing.'
Dincin advanced the clubhouse model of psychiatric rehabilitation to include housing, education, vocational services, and home visiting, among other services. Dincin pioneered specialized services for the deaf, mothers, seniors, persons with substance abuse disorders, adolescents, persons with justice involvement, and many more. He was an early advocate of research programs for mental health, which not only produced ground-breaking studies on best practices in mental health treatments, but also established important processes for program evaluation within mental health fields.
'The agency is still doing well, and I feel proud that we were able to establish a way for many thousands of persons with mental illness to participate in our society who would previously have been unable to,' Dr. Dincin said shortly before his death. Thresholds won numerous awards from the American Psychiatric Association and many other organizations.
'When you think of Jerry Dincin, what immediately comes to mind is doing. Jerry was one of those rare leaders who came up with ideas others had rejected as too difficult, and yet he found a way to put them into action. As a visionary, he saw very early the merits of drug therapy which has benefited countless numbers of persons with mental illnesses. His focus was always to find ways to bring persons with mental illnesses out of an institutional setting and back to a position of functionality,' says Jim Mabie, long-time Thresholds board member.
He met his second wife Suzanne Streicker in 1976 when she was working at Thresholds as a social worker. 'It was thrilling to be on the forefront – the leading edge of psychiatric rehabilitation,' she says, and adds, 'There was always good energy at Thresholds.'
Ginnie Fraser, Associate Director of Thresholds says, 'Jerry always kept challenging staff to do better. His passion was infectious for us all as he led us to fight against stigma and for housing, jobs, and better lives for those with mental illnesses.'
After retiring from Thresholds in 2002, Dincin also worked as an advocate for the Death with Dignity movement. Dincin is survived by his wife, Susanne Streicker, a sister, Zola Schneider, of Washington, D.C., four children – Laura Piper, Paul Dincin, Maya Dincin, and Bruce Dincin – and seven grandchildren.
We will all miss Jerry Dincin, and we celebrate his extraordinary life and work, which made life better for thousands of persons with mental illnesses."
-Mark Ishaug, CEO
Media Contact:
Emily Moen
Thresholds
Director of Public Relations and Marketing
Office – 773-572-5172