May is Mental Health Awareness Month, but Advocating for Better Access to Mental Health Treatment is a Year-Round Effort
By Illinois State Senator, Melinda Bush
As an Illinois state legislator, one of the things I want to tackle is the state's mental health crisis.  May is Mental Health Awareness Month, a unique opportunity we have each year to call attention to an important issue that goes overlooked far too often. But the need for more awareness about mental health and getting help when it is needed is not a campaign limited to just the month of May – it is an ongoing effort that deserves our attention the whole year long.
This year I have had the pleasure of working with Thresholds and the Healthy Minds Healthy Lives (HMHL) Coalition on two pieces of legislation aimed at improving treatment options for Illinoisans. These bills will strengthen coverage for early mental health and substance use treatment for youth and young adults. I am proud to sponsor both of these proposals because everyone deserves access to treatment and the type of insurance you have should not determine what kind of care you are able to receive. We know that most serious mental health conditions show up in a person's teens or early twenties, so there is no reason someone should have to go years without the services and supports they need to be healthy and get well.
I am excited that our bills are strongly bi-partisan and gaining momentum in Springfield. As the bills' sponsor, it is my job to steer the bills through the state legislature and work to get them signed into law. But I could not do this without the partnership of mental health advocates like the HMHL Coalition. Advocates play a critical role in shaping good public policy by keeping legislators up to date on the needs of our communities and educating us about opportunities to make a difference for those we serve.
Over the past few months, members of the Coalition, including parents, treatment and youth service providers, and persons with lived experience of mental health conditions, met with dozens of lawmakers from across the state to share their stories and to ask for support for the HMHL bills. Those conversations provided valuable insights from constituents about what they are dealing with and what lawmakers can do to improve access to treatment. First-hand accounts bring issues to life, helping lawmakers to understand them better and inspiring us to take action on some of the biggest challenges facing our communities, including an unspoken mental health crisis and a lethal opioid epidemic.
Never underestimate the impact you can have by sharing your story. You are an expert in your experience and raising your voice is powerful. Advocates like the members of the HMHL Coalition are moving mental health and substance use treatment to the top of the agenda. As we kick-off Mental Health Awareness Month, remember that the need for awareness raising and advocacy is ongoing. Together we can bring about much-needed changes to the treatment system but that can only happen if we make mental health a priority all year round.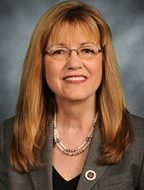 State Senator Melinda Bush has served for 5 years representing the 31st District in the northern suburbs of Chicago. She is a member of Senate Human Services Committee and sponsor of this year's Healthy Minds Healthy Lives legislation, SB2951 – Early Mental Health and Addictions Treatment Act and SB3213 – Fair Insurance Coverage for Families for Early Treatment of Serious Mental Health Conditions Act.
For more on the Healthy Minds Healthy Lives Coalition, please visit the Coalition's webpage.