New Freedom Center South Grand Opening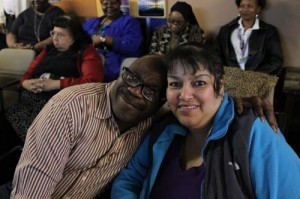 The Thresholds New Freedom Center South celebrated their new space with a gathering last month. The New Freedom Centers provide peer support and social opportunities for persons who are transitioning out of nursing homes and IMDs into independent living in the communities of their choice. Many members shared their experiences, and we also heard from Lori Jones from the Governor's office and Brenda Hampton from DHM. You can see more photos from the event on our website here.
Thresholds operates two other New Freedom Center locations in Kankakee and the north side of Chicago. In the past year, Thresholds has assisted nearly 200 members as they transition to community-based care through the Williams Consent Decree.
View more photos from this fantastic event here.