On The Road to Mental Health Reform
On The Road to Mental Health Reform
By Heather O'Donnell
Each May, in honor of Mental Health Awareness Month, we join millions of people across the nation to shine a light on the importance of treating mental health conditions like any other medical condition. And while some progress has been made to improve Illinois' mental health system, much remains left to do.
The science is unequivocal – treatment works, and a normal, good quality life is possible. Yet, Illinois has never made access to mental health treatment a priority.
Most serious mental illnesses manifest during adolescence or young adulthood. But it takes an average of 10 years for someone to get the right diagnosis and treatment. This delay in treatment means a long, slow, and harsh spiral into countless hospitalizations, accumulating disability, the inability to work or attend school, poverty, homelessness, criminal justice involvement for survival crimes, and early death. Our current system fails to provide the level of care needed by someone with serious mental illness until they are disabled, when they are eligible for assistance from the State that they will likely require for the remainder of their life. If private insurance and the State provided comprehensive treatment right away, we could prevent a lifetime of disability.
It is time to change this trajectory. Illinois can and must do better by its citizens. Thresholds has outlined the Road Map to Mental Health Reform for improving access to high quality mental health treatment. The Road Map is a set of concrete policy recommendations for what Illinois must do to build a strong mental health system that enables the right treatment at the right time.
One of our key recommendations is that Illinois must invest in proven early treatment approaches. First Episode Treatment is a wrap-around treatment approach for young people experiencing early signs of a serious mental illness that includes psychosis, like schizophrenia. National research shows that First Episode Treatment can slow if not stop the progression of the illness, prevent disability, and reduce healthcare costs. Illinois' Medicaid Program and private insurance must cover First Episode Treatment for psychosis and other early interventions for serious mental health conditions.
For far too long, mental illnesses have remained in the shadow of stigma. I have witnessed the positive impact treatment, housing, and support services have on Thresholds members. It is time to push forward and start treating mental health on par with all other medical conditions by providing the care necessary to stabilize and recover. Thresholds is pleased to be working with providers, advocates, and those with lived experience from across the state in support of the Road Map to Mental Health Reform, a comprehensive approach to strengthening mental health in Illinois. Learn more about the Road Map to Mental Health Reform and how you can get involved today.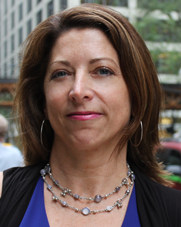 Heather O'Donnell, Senior Vice President of Public Policy and Advocacy, is Thresholds' resident policy expert and one of the primary architects behind the Road Map to Mental Health Reform. She is an attorney by trade and has a wealth of experience in health care and non-profit advocacy.