MindStrong First Episode Psychosis Services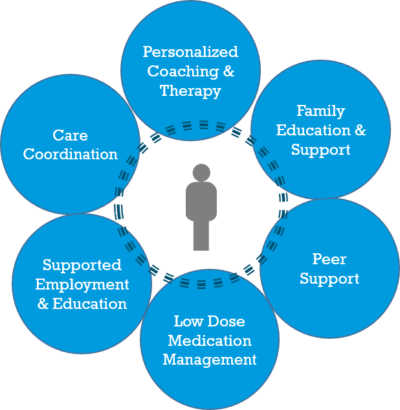 MindStrong partners with young people and families through a multidisciplinary team-based approach that integrates key elements from the most respected & scientifically validated early intervention practices. We utilize strategies that not only have the strongest evidence base, but are creative and fun approaches to achieve goals.
Instead of focusing solely on treating symptoms, we focus on addressing the impacts of psychosis on school, work, relationships, independence, & identity development. We're working to teach young people, families, and greater Chicagoland how to recognize early signs of serious mental health challenges.
What You Can Expect From MindStrong Services
Rapid assessment and individualized care planning
We work with you to develop a shared understanding of the difficulties you or your family member is having, and then we make a plan together based on your specific situation, needs and desires.
Supported Employment and Supported Education
An episode of psychosis can cause a disruption in education and/or employment.  The quicker you can get back on track with school and/or work, the less likely this disruption derails your future plans– and the better it is for your mental health. Our specialists provide support in and out of the office to help you succeed with your education and employment goals.
Medication Education, and monitoring
Our psychiatrist is knowledgeable about the most up-to-date research in use of medication for early psychosis, and will help you and your family to understand your choices and to make informed decisions about medication.
Individual therapy and coaching
Individual support and guidance can help you to make sense of the experience you are having, and can help you learn how to manage symptoms, anticipate future difficulties, and to plan ahead for those situations. In addition, we will help you to build on your own strengths and abilities and to move toward the future you envision for yourself.
Family education and multi-family groups
Many family members are confused and unsure what to do when a loved one develops concerning symptoms.  We provide information to help you understand what is happening for your young family member, and to give you some guidance about how you can support him or her, and maintain your family equilibrium.  Some families find the support of other families who are going through similar experiences to be invaluable; families learn together how to solve common problems faced by those struggling with mental health issues in the family.
Peer support
It can be helpful for a young person who is experiencing psychosis for the first time to receive support from someone who "has been there" – and to find that you are not alone! We provide opportunities for you to connect with peers who have experienced and overcome similar challenges.
Care coordination
It is common for people and their families to feel overwhelmed and without a clear direction. We help you weave your services together in a way that clears a path toward your individual goals.
Looking for services? Don't wait. The earlier people experiencing psychosis get help, the better the outcomes. Contact MindStrong at 773-432-6555 & MindStrong@thresholds.org for more information. 
Know a young adult with mental health needs, but who does not have a recent onset of psychosis? Check out our Emerge programs.