The Power of a Job: Thresholds Supported Employment
The Power of a Job: Thresholds Supported Employment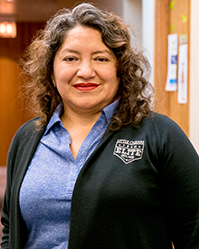 Jobs transform lives. They provide purpose, routine, and financial freedom – all of which play a key role in recovery from mental illnesses. As Area Director for Little Caesars Pizza, Quizhpe Luz is one of the many employers who partner with Thresholds to provide competitive career opportunities to our clients through our supported employment services. "I believe in giving people a chance," Quizhpe said, "that's why I decided to work with Thresholds."
In 2011, Quizhpe was introduced to Zekkina, a member of Thresholds Deaf Program who was working with supported employment to find a job, and invited her to join the Little Caesars team. Hiring Zekkina proved to benefit them both, filling an open position with an excellent employee and giving Zekkina a feeling of connection and empowerment. Reflecting on her life before employment, Zekkina shared "I was bored and had bad mood swings at home. Now I enjoy working, keeping busy – and no more mood swings."
Quizhpe emphasized the importance of equality on her team in both respect and responsibility. "The team doesn't treat Zekkina any differently," she said, "they hold her accountable just like everybody else." While Little Caesars training already incorporated multiple learning and communication styles, Quizhpe says working with Zekkina inspired her to seek out American Sign Language worksheets to better communicate with her.
Zekkina's strong work ethic and positive contributions to Little Caesars have motivated Quizhpe to hire several more Thresholds clients and provide them with the same chance to succeed. "It feels wonderful to give someone a job. You're making a difference in someone's life, seeing their smiles as they start their career is payback for anything."
Thresholds supported employment services provide clients with opportunities to build skills, prepare for interviews, match clients with employers based on their unique interests, and provide ongoing support both before and after the hiring process. To learn more about Thresholds supported employment services, visit thresholds.org/employment.