The Affordable Care Act Will NOT Fill the Gap Left By the Mental Health Cuts in Governor Rauner's Proposed Budget
Fact Check: The Affordable Care Act Will NOT Fill the Gap Left By the Mental Health Cuts in Governor Rauner's Proposed Budget
In recent weeks, representatives of Governor Rauner's administration have said that the Affordable Care Act (ACA) will fill the hole left by the large mental health cuts in his proposed budget. They claim that the state no longer needs to use General Revenue Funds to pay for these mental health services, because Medicaid and ACA will make up the difference, and the payer will largely be the Federal government.
The claim that the ACA/Medicaid expansion will make up the difference in mental health cuts from the Governor's budget is absolutely incorrect.
Here are the facts:
Mental health services in Illinois are currently paid for with two primary sources –Medicaid and non-Medicaid state General Revenue Funds (GRF). Many of the GRF/non-Medicaid health cuts in Governor Rauner's budget are for mental health services that are NOT covered by Medicaid but are absolutely essential for recovery, including:
Diversion teams stationed on-site in hospitals that connect people to treatment in the community rather than cycling in and out of Emergency Rooms and long inpatient and hospital stays.
Boots-on-the-ground care coordinators who connect people with the support they need to recover.
Supported employment programs that enable people with serious mental illnesses to work and become tax-paying, productive citizens.
Supportive housing services that provide stable housing that is essential to recovery and independent living.
None of these services are covered by Medicaid and – because they are not strictly healthcare services – cannot be covered by Medicaid under current law. Nor will they be covered by the ACA.
And because Illinois' mental health Medicaid reimbursement rates are unconscionably low and do not cover the costs of treatment, GRF funds have to be used to make up that shortfall and pay for critical services like psychiatric care at mental health agencies like Thresholds.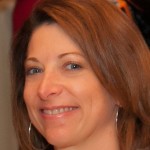 The bottom line is that the Governor's cuts will leave thousands of people dealing with serious mental illnesses without treatment. Without treatment, they are facing a cycle of repeated psychiatric hospitalizations, nursing home care, homelessness and incarceration. Not only are these alternatives worse for the individuals in need of mental health care, they are vastly more expensive for Illinois taxpayers.
These cuts are simply the wrong answer for a state looking to fix its budget problems. They will destroy our mental health safety net and they make it harder for people with mental illnesses to recover.
– Heather O'Donnell, Vice President of Public Policy and Advocacy