Thresholds and NAMI-Chicago Call for Fully Funded Crisis Intervention Training for More Chicago Police Officers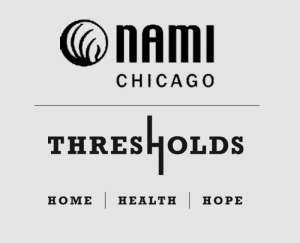 Chicago, IL – The video released by the City depicting the treatment of Philip Coleman by the Chicago Police Department (CPD) is shameful. Mr. Coleman was in the midst of a psychiatric crisis. This incident puts a spotlight on the disconnect between the needs of persons with serious mental illnesses and the training most law enforcement officers do not receive.
The violent and insensitive treatment of Mr. Coleman is unacceptable. Jailing persons with mental illnesses instead of providing them with treatment is inhumane, ineffective, and a waste of taxpayer dollars. As a city and as a state, we must do better.
There are alternatives available to officers called to a psychiatric crisis, and those who handle any subsequent custody of the individual. Training more officers with the complete 40-hour Crisis Intervention Team (CIT) training would be a good start. CIT is a voluntary CPD program that teaches techniques for deescalating a situation much like Mr. Coleman's while he was agitated and symptomatic. CIT reduces arrests and trauma, and increases safety for both the officer and the individual in crisis. We applaud the mayor for highlighting the need for more training, but ask that the City specifically prioritize and fund Crisis Intervention Team training for more officers to ensure 24/7 availability in all police districts and high-quality departmental support for these specialists, including a dedicated behavioral health unit. We also call on the Chicago Police Department to ensure that all officers receive training in recognizing the symptoms of behavioral health crises and deescalating these situations for the safety of all involved.
Every single law enforcement officer in Chicago receives extensive firearm training, yet most will never need to fire their weapon. The vast majority of officers will encounter someone with an active mental illness or substance use problem who need intervention, yet only 1,900 – less than 15% – receive CIT training. Typically, there are 15 trainings available to CPD officers each fiscal year. This fiscal year there have been none due to the state budget impasse. We need more CIT trained officers available in the CPD, and we need better training throughout the department on how to recognize the symptoms of a behavioral health crisis so CIT trained officers can be involved right away.
CPD's CIT directive states that they are "committed to the dignified treatment and safety of arrestees and other persons requiring assistance from the Department to obtain mental health evaluation, treatment, or hospitalization." We demand that CPD adhere to these commitments to ensure that the treatment endured by Mr. Coleman is not repeated.
Our mental health safety net is broken. Individuals living with mental illnesses are needlessly ending up in our criminal justice system in record numbers. Funding for early intervention, community-based treatment, and adequate crisis and triage services in Illinois is imperative. Our state, county, and city elected officials must prioritize mental health services. Psychiatric episodes can be frightening and dangerous to the person experiencing them and occasionally the people around them – but they are treatable. Untreated mental illness ruins lives and is extraordinarily expensive for taxpayers. We can and must do better.
Mark Ishaug, CEO, Thresholds
Alexa James, Executive Director, NAMI Chicago
Contact: Emily Moen, Director of Public Relations and Marketing – 773-572-5172