Thresholds CEO Mark Ishaug Speaks Out Against Costly Mental Health Budget Cuts
Thresholds CEO Mark Ishaug Speaks Out Against Costly Mental Health Budget Cuts
Thank you, Sheriff Tom Dart, for shining a light on the "disaster" that Governor Bruce Rauner's proposed cuts would create for the jail system and for persons with serious mental illness (DNAinfo, May 7, Tom Dart Says He Wishes Someone in Springfield 'Had a Functioning Brain').
As the CEO of Thresholds, one of the state's oldest and largest providers of recovery services for persons with mental illness, we know from experience that the governor's proposed cuts will not only end up costing the state more money, but will also throw Chicagoans – and people throughout the state – in jail. And in hospitals. And on the streets.
The annual per person cost to house someone with a serious mental illness at Cook County Jail is $69,350. In contrast, a full year of the most intensive level of community-based treatment costs just $10,243, and a rental housing voucher for a year costs just $9,200. The increased expenses for inappropriately housing people with mental illness in jails and hospitals will show up immediately, not years from now, as we've seen from recent state budget cuts.
Costs aside, jails are clearly not the right environment, nor are they equipped, to treat people with serious mental illness and should not be, in Sheriff Dart's words, "a dumping ground for a dysfunctional system."  Sheriff Dart's estimate that 3,000 of the 8,000 daily inmates at Cook County Jail have a mental illness makes this "solution" all the more grave.
It was also disheartening to read Rauner spokeswoman Catherine Kelly continue to perpetuate the misinformation that the Federal expansion of Medicaid and coverage of mental health under the Affordable Care Act will fill the hole left by the proposed cuts. Quite simply, they will not. Thresholds has explained that fallacy here.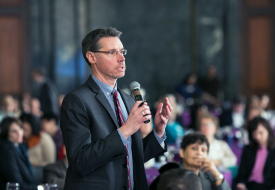 We join Sheriff Dart in urging the Governor and the General Assembly to find a revenue solution to the state's budget deficit.
Make your voice heard, too. Please tell your legislators and the governor that we can't cut ourselves out of the budget crisis.
Mark Ishaug, Chief Executive Officer
Thresholds