Thresholds to Host Forum on Mental Health Policy
Forum will encourage real, positive dialogue between providers, legislators
Thresholds is hosting a policy forum Opportunities in Mental and Behavioral Health on September 12th from 9am to noon at the Union League Club of Chicago, with the support of Janssen of Johnson and Johnson, Together4Health, and NAMI Illinois. The forum will address current opportunities that exist in behavioral health in Illinois as the state begins implementation of Medicaid Expansion. Healthcare reform is an exciting step forward, but the state must make the right kind of investments to address gaps in the behavioral health safety-net.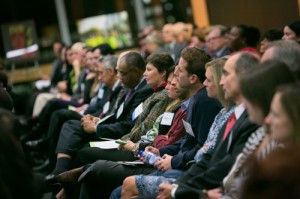 Implementation of the Affordable Care Act, Coordinated Care, and the Olmstead consent decrees present a real and exciting opportunity for Illinois to invest in and re-design our behavioral health safety-net. The state's significant cuts in recent years to mental health and substance use disorder services have resulted in thousands of people going without necessary treatment, leading to high emergency room use and a build-up of individuals in the jails and nursing homes. The road to recovery must involve services beyond emergency health care, including housing, supportive services, supported employment, psychiatric care, and a community-based environment.
Investment in supportive services is also in the best interests of the state. Without a true commitment towards these services, individuals with significant behavioral health needs will continue to live in homelessness or unstable housing and cycle in and out of jails, hospitals, and nursing homes.
The forum will include two panels hosted by Thresholds CEO Mark Ishaug, and will be moderated by Karen Batia, Executive Director, Heartland Health Outreach and Vice President, Heartland Alliance for Human Needs and Human Rights. Karen started Together4Health, which was one of the first provider-led Care Coordination Entities awarded in Illinois.
Host
Mark Ishaug, CEO, Thresholds
Moderator
Karen Batia, Executive Director, Heartland Health Outreach and Vice President, Heartland Alliance for Human Needs and Human Rights
Panel 1
Josh Evans, Legislative Director, IARF
Maureen McDonnell, Director of Business and Health Care Strategy Development, TASC
AJ French, Executive Director, Sacred Creations
Michelle Thomas, Clinical Director, Northern Region, IlliniCare
John Fallon, Program Director, Reentry, Corporation for Supportive Housing
AJ Wilhelmi, Chief Government Relations Officer, Illinois Hospital Association
Panel 2
Michael Gelder, Senior Health Policy Advisor to Governor Quinn
Mike Koetting, Deputy Director for Planning and Reform Implementation, Illinois Department of Healthcare and Family Services
Theodora Binion, Acting Director, Division of Mental Health, and Director, Division of Alcohol and Substance Abuse
Meg Egan, Director of Public Policy and External Affairs, Office of Cook County Sheriff Tom Dart
State Senator Heather Steans, 7th District
State Representative Esther Golar, 6th District
State Representative Robyn Gabel, 18th District
Registration for this free event is available here. Please note that the Union League Club of Chicago has a dress code: no jeans, collared shirts and slacks for men, and blouses or sweaters and slacks or skirts for women. Please contact Heather O'Donnell with questions or for more information.