Thresholds Named 2017 Best & Brightest Company to Work For
Thresholds Named Best & Brightest Company to Work For in 2017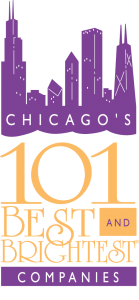 Chicago, IL – Thresholds has once again been named one of Chicago's 101 Best and Brightest Companies to Work For in 2017 by the National Association for Business Resources. This award is bestowed to companies that distinguish themselves as having the most innovative and thoughtful human resources approach. An independent research firm evaluates each company's entry based on key measures including compensation, benefits, engagement, retention, employee achievement recognition, communication and shared vision, diversity and inclusion, work-life balance, and community initiatives.
Thresholds has over 1,400 employees working at more than 30 programs throughout the city of Chicago, adjacent suburbs, and nine Illinois counties, in more than 100 total locations. Thresholds promotes a diverse and supportive culture that empowers employees and rewards their accomplishments.
"Thresholds is successful because of our amazing workforce. Our staff have challenging jobs, and they do them with the most amazing heart and drive. I'm inspired by their dedication every day, and I'm thrilled that through this award, the work they do to make Thresholds great is being recognized," says Mark Ishaug, Thresholds CEO.
"Companies that recognize that their employees are the key to their success achieve staying power. Our 2017 winners create their human resource standards to ensure employee satisfaction and they set standards for every business to aspire toward," said Jennifer Kluge, President and CEO of MBPA. "We are proud to honor this year's winners."
Thresholds congratulates all recipients of this award, especially fellow nonprofit organizations who also share a strong commitment to serving the community. On Monday, July 17, 2017, Thresholds will be honored alongside fellow award winners at a luncheon at the Chicago Marriott Southwest in Burr Ridge, Illinois.
For current, open employment opportunities at Thresholds, please visit our career page.