Thresholds Named Among 101 Best and Brightest Companies to Work For 2014
Thresholds Named Among 101 Best and Brightest Companies to Work For 2014
Chicago, IL—Thresholds, Illinois' largest and oldest provider of community-based services for persons with mental illnesses, has been named one of Chicago's 101 Best and Brightest Companies to Work For in 2014 by the National Association for Business Resources.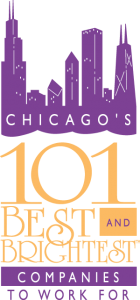 Best and Brightest is an awards competition among businesses of all sizes to honor companies that are improving not only the lives of their employees, but also making their communities a better, happier, and healthier place.
Thresholds has over 1,300 employees spread across the Chicago region, south and north suburbs, McHenry County, and Kankakee. To overcome the logistical challenges of a large and highly dispersed workforce, Thresholds utilizes technology and communications solutions to build a cohesive company culture.
"Our employees are absolutely amazing. As an organization, we try to do all that we can to support our staff because the work they do is so emotionally and physically challenging. It is an honor to be recognized for these efforts as a top workplace in the Chicago region," says Mark Ishaug, Thresholds CEO. "From our front-line social workers and case managers to our outstanding administrative staff, the quality of our team is apparent."
Thresholds congratulates other recipients of the award, especially fellow nonprofit organizations and businesses with a strong social mission. Thresholds will be honored along with other awardees at a luncheon at the Oak Brook Marriott in Oak Brook, Ill. on Monday, July 21, 2014.
To view open job opportunities at Thresholds, please visit our careers page.