Thresholds Named Best & Brightest Company to Work For
Thresholds Listed Among 101 Best and Brightest Companies to Work for 2016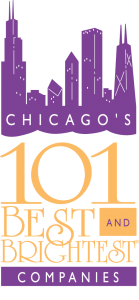 Chicago, IL – Thresholds, one of the oldest and largest providers of recovery services for persons with mental illnesses in Illinois, has been named one of Chicago's 101 Best and Brightest places to work in 2016 by the National Association for Business Resources. This award is given to companies that create a happy and healthy work environment for their employees, and is largely based on anonymous employee satisfaction surveys.
With over 1,400 employees, Thresholds has more than 30 programs throughout the city of Chicago, adjacent suburbs, and nine Illinois counties, in more than 100 total locations. Thresholds efficiently utilizes an array of technology and communication methods to create and keep a unified company culture. Thresholds works to invest in employees' health and wellness, and to create a positive working environment amidst the challenging human services work that most employees perform.
"Our staff rocks! They are the most important part of Thresholds and our high-quality mental health services." says Thresholds CEO Mark Ishaug. "We are honored to be recognized for our efforts by the Best and Brightest award. Our staff deserve it – every day they are changing and saving the lives of persons living with mental illnesses."
Thresholds commends and congratulates all recipients of this award, especially their fellow nonprofit organizations operating with strong social missions. On Friday, July 15, 2016, Thresholds will be honored alongside fellow award winners at a luncheon at the Chicago Marriott Southwest in Burr Ridge, Illinois.
For current, open employment opportunities at Thresholds, please visit our career page.