Thresholds Named to Chicago Tribune Top 100 Workplaces
Thresholds Named to Chicago Tribune Top 100 Workplaces
Award recognizes area's best places to work based on employee feedback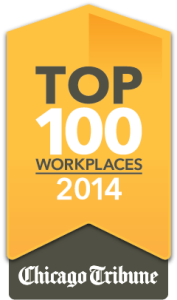 Chicago, IL – Thresholds is pleased to announce that it has been selected as one of The Chicago Tribune Top 100 Workplaces.
The Top Workplaces are determined based solely on employee feedback. The employee survey is conducted by WorkplaceDynamics, LLP, a leading research firm on organizational health and employee engagement. WorkplaceDynamics conducts regional Top Workplaces programs with 40 major publishing partners across the United States. WorkplaceDynamics provides solutions, training and tools to help clients improve their workplace.
Thresholds' leadership is committed to strategic investment in resources that help their employees be effective and happy. In 2011, Thresholds began implementing a new electronic health records system based on direct feedback from their hundreds of social workers and case managers that indicated it was difficult to use in Illinois' fee-for-service Medicaid system. They are planning to implement even more mobile-friendly systems to accommodate the community-based outreach model their work entails.
Thresholds has also implemented high-level training and development. Clinicians receive ongoing training on emerging best practices, self-care, and safety. Recently, both clinical and administrative supervisors have engaged in 30-hour management and leadership training to support leadership development across the agency.
"The employees at Thresholds are professional, passionate, and extraordinarily hard-working," says Thresholds CEO Mark Ishaug. "It's critical that we continue to find ways to support them given the rigor of clinical social work with a high-need population. Investing in employee wellness pays dividends because it means that they're better able to transform the lives of our clients."
"Workplace awards like this mean that we are able to better attract and retain top talent," says Chris Noone, Vice President of Talent Management. "The Thresholds team is incredibly supportive and dedicated, and that makes it a truly wonderful environment to work in."
The Chicago Tribune published the complete list of Top Workplaces on November 14th. For more information about the Top Workplaces lists and WorkplaceDynamics, please visit www.topworkplaces.com and www.workplacedynamics.com.
About Thresholds:
Established in 1959, Thresholds provides healthcare, housing, and hope for thousands of persons with mental illness in Illinois each year. Through care, housing, employment, advocacy, and research, Thresholds assists and inspires people with mental illness to reclaim their lives.
Thresholds is the oldest and largest provider of recovery services for persons with mental illnesses in Illinois. They offer 25 innovative programs at more than 70 locations throughout Chicago, the adjacent suburbs, and McHenry and Kankakee Counties. Services include assertive outreach, case management, housing, employment, education, psychiatry, primary care, and substance abuse treatment. Last year, Thresholds served more than 7,000 adults and youth, with 75% of services delivered out in the community, representing more than 400,000 hours of care.