Thresholds offers Blue Island a compassionate, community-based approach to substance use treatment and recovery


Thresholds offers Blue Island a compassionate, community-based approach to substance use treatment and recovery
CHICAGO—Thresholds, Chicago's largest and oldest provider of comprehensive mental health services, announces it will offer outpatient-based services for substance use treatment from their location in Blue Island, IL.
Thresholds' first substance use treatment program aims to provide south suburban Cook County outpatient-based care needed for helping people achieve sustained recovery. Staff work closely with people who have alcohol and substance use concerns as well as their families. The program welcomes individuals who are questioning whether they have a problem with alcohol and/or drugs, as well as individuals who are seeking successfully step down from hospital or residential care, in order to maintain their recovery goals once they return home.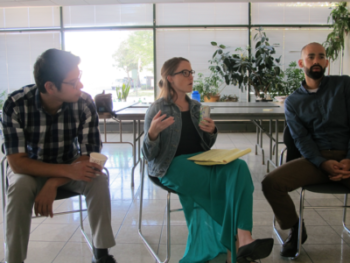 "Thresholds has a long history of providing person-centered, recovery-focused behavioral health services that help people to live independent and healthy lives. Our substance use treatment program is built with the same model," says Tim Devitt, Vice President of Clinical Operations at Thresholds. "Asking for help for a substance use concern can be difficult. We understand that and stand ready to help people develop their individual pathways for recovery, with support from us and the people they want to include in their care."
"As substance use, including alcohol and marijuana, continues to rise in our communities, Thresholds is committed to meeting the increased need for services in the greater Chicagoland area," says Gabriela Zapata-Alma, Substance Use Treatment Program Director. "Our program is designed to be particularly sensitive to each individuals' goals and history. We respect each person as the expert on their life, and seek to partner with and empower them in their recovery.
Thresholds provides Outpatient and Intensive Outpatient Services that are person-centered, trauma-informed, holistic, and supported by strong research evidence. Group and individual counseling services, including therapy, case management, family and couples counseling, and medication assisted treatment to address drug and alcohol cravings and withdrawal, are offered through the program. The length of treatment and services provided are based on individual needs and preferences. Integrated treatment is available for those who seek both mental health and substance use support. Currently, the program is only offered to adults and will soon be open to adolescents.
Desired outcomes include overall improvements in health and recovery from substance use, such as reduction in usage of substances, mental health stabilization, improvements in family and social relationships, and increased involvement in employment, educational pursuits, and contributions to the community. Thresholds plans to next expand to additional locations in the north suburbs, west suburbs, and north Chicago, as well as working with the Chicago Police Department to offer treatment rather than arrest to persons with substance use concerns.
Thresholds is a nationally recognized industry leader in mental health, housing and employment services for persons with mental illnesses. For many years, Thresholds has provided the Evidence-Based Practice of Integrated Dual Disorders Treatment, which provides services to persons with co-occurring mental health and substance use disorders.
Contact: Emily Moen, emily.moen@thresholds.org, 773-572-5172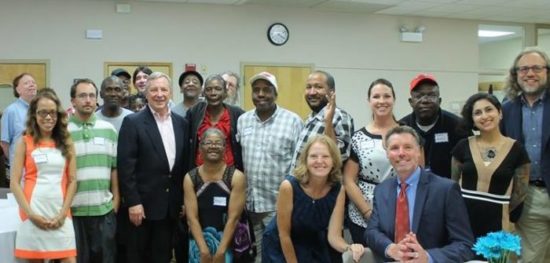 In July 2016, Illinois Senator Dick Durbin paid a visit to Thresholds location in Blue Island.