Thresholds Responds to Governor Rauner's State of the State Address
Adequately funded budget, investments in mental health are keys to accomplishing Rauner's goals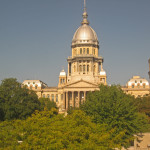 Chicago, IL – Today, Governor Rauner delivered his second State of the State Address amidst the continuing budget impasse. Critical, life-saving services are disappearing every day that we do not have a budget that funds social services organizations in our state. In his speech, Governer Rauner opened by declaring, "Our job is to improve the quality of life for ALL the people of Illinois." We couldn't agree more. There are no more excuses – we cannot keep allowing our most vulnerable citizens to bear the consequences of a lengthy budget standoff.
We implore Governor Rauner and the General Assembly to quickly pass a budget that is supported by adequate revenue to fund essential services. Social service providers like Thresholds have spent an entire year in uncertainty, and as we saw this week when Lutheran Social Services of Illinois cut services to 4,700 clients and eliminated 750 jobs, even the largest and most stable agencies cannot withstand the pressure of piecing together bank loans, lines of credit, and reserve funds to attempt to keep their doors open. These types of services cuts will result in lives lost and decades of social service infrastructure undone. Loss of jobs and loss of services at this scale is a disaster for our state.
We are pleased to see that Governor Rauner is proposing criminal justice reform measures, but without significant investments in mental health and substance use treatment, our prisons and jails will continue to be overcrowded with people who do not belong there. Community-based, wraparound mental health services and supportive housing for the most serious cases, such as the care provided at Thresholds, cost just $19,443 per year. A year in jail in Cook County for a person with mental illness costs taxpayers $60,350. We need smart investments in mental health that fix the system from the ground up.
We also support Governor Rauner's focus on fixing the patchwork system of care in Illinois, and focusing on "value and outcomes rather than volume and services" and "evidence-based and data driven decisions." However, we cannot effectively enact a system that "moves individuals from institutions to community care" unless our state makes a significant investment in mental health and substance use treatment services. Strategic, big investment in community-based care will not only save lives, but save millions of dollars for taxpayers. Taxpayers pay an average of $31,400 annually for a person with mental illness to reside in a nursing home, where it is unlikely that they will recover return to their community. Thresholds' community-based services plus a housing voucher costs $19,443 per client per year.
Thresholds also applauds Governor Rauner's formation of a Cabinet on Children and Youth, which will help to more effectively coordinate the many agencies and stakeholders involved in youth services in our state.
Insistence on a budget with short-sighted cuts to vital services has resulted in no budget at all for almost a year. Illinois cannot wait any longer for a state budget. We call on Governor Rauner and the General Assembly to prioritize passing a budget as soon as possible as a first step to accomplishing the goals the Governor has outlined for healthcare in Illinois.
Press contact: Emily Moen, emily.moen@thresholds.org, 773-572-5172