Thresholds Response to Governor Quinn's State of the State Address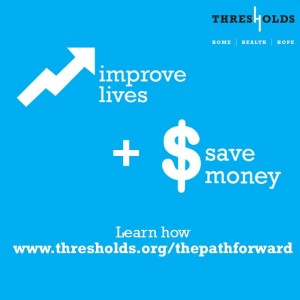 Chicago, IL – If Governor Quinn's State of the State address had a theme, it was opportunity. Positing that we have now "stopped the bleeding" with pension reform, he called for investments in our foundation – our physical infrastructure, our youngest children, and our small businesses. It was a hopeful speech. The Governor is right. This is a time of tremendous opportunity. But it is critical that we not leave out of this comeback the most vulnerable among us. The implementation of Medicaid expansion, care coordination, and healthcare reform generally provides the state with an historic opportunity to make a much-needed investment in the behavioral health system that enables people to get the care they need at the time they need it. Investments must also be made in affordable housing and supportive housing services for individuals living with mental illnesses, to enable recovery, and to give them choices and freedom to live independently. In addition, the Governor's early childhood initiative should include mental health screenings and access to mental health care for children who need it – research shows a direct correlation between health and education outcomes.
Because of the state's serious fiscal challenges, Illinois' mental health safety-net, as well as other essential services like healthcare and human services for the most vulnerable populations, have been cut to the bone in recent years. It is time to rebuild. If the state does not make strategic investments in these services, it will continue to pay for ineffective, high-cost care far into the future. Finally, we believe the state must extend the temporary income tax increase to fund these critical services. The phasedown of the temporary income tax increase will cause a significant budget hole this year, and will result in the dismantling of the safety-net for millions of vulnerable Illinoisans, including those living with mental illnesses.
We believe it is vital to invest in a strong community behavioral health system—both to save lives, and to save money. You can find more information on our website about our platform of opportunity and our policy suggestions to save money and improve health.
We agree, Governor Quinn, it's time to finish the job.