Thresholds' Response to Governor Rauner's Budget Address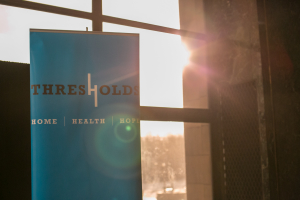 Governor Rauner's Budget Proposal Includes Cuts to Human Services and Medicaid
Thresholds supports revenue solution; smart investments in Medicaid and mental health services to prevent future increases in taxpayer costs
February 18, 2015
Chicago, IL – Today, Governor Rauner proposed a state budget that includes deep, broad cuts that would devastate critical services for our most vulnerable residents, including those with serious mental illnesses. The human toll and the taxpayer costs of cuts like these are simply too great to allow.
The Governor and the General Assembly must join together to find a revenue solution, including maintaining a higher income tax rate, to preserve essential services that Illinoisans truly need. Governor Rauner wants our state to be the most compassionate and the most competitive – we couldn't agree more. But this budget, with cuts to Medicaid and human services, is neither of those things. Illinois is spending millions of dollars in the wrong places with respect to mental health, and the proposed budget will exacerbate this problem.
Both state-funded and Medicaid mental health services are a critical safety net for people like Calvin, a young adult client of Thresholds who lives with bipolar disorder. Without treatment, Calvin experienced extended and repeated hospital stays every few weeks. With community-based treatment, Calvin has been able to stabilize his illness, find steady work, and attend Truman College.
The cuts the Governor is proposing will result in a reality for our state that mirrors Calvin's experience: as people with mental illnesses lose treatment, they are at high risk of beginning a cycle of multiple hospitalizations; they become unable to work, go to school, or be productive taxpaying members of our communities.
The extraordinary human cost of these cuts is clear. Equally clear are the fiscal consequences that will harm our state. Cutting treatment services for people with mental illnesses causes significant increases in costly psychiatric hospitalizations. State-funded mental health treatment services were cut by more than $113 million between 2009-2011. During this period, Illinois saw a 19% spike in psychiatric hospital ER visits, with 25% of visits resulting in extended hospitalizations. This alone cost an estimated $131.4 million, $18.4 million more than the cuts had "saved." Cutting mental health services simply does not make fiscal sense.
A big part of the solution to our state's chronic budget shortfalls is to find a revenue solution. We cannot simply cut ourselves out of the problem. We urge the Governor and the General Assembly to work together to avoid these cuts by finding sufficient revenue sources to cover the cost of essential public services.
And we urge you, the advocates, providers, consumers, and supporters of mental health services, to contact your legislators in Springfield. Tell them we need a revenue solution. Tell them why mental health services, Medicaid, and human services are important to you and the people you serve. You can sign up here for Thresholds' advocacy alerts to join us in standing up for the residents of our state who need us the most.
CONTACT:
Emily Moen
Director of Public Relations & Marketing
773.572.5172