Thresholds Statement on Governor Rauner's State of the State Address 2017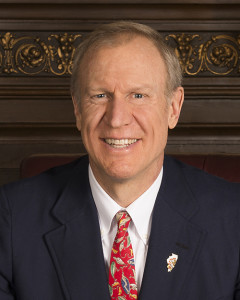 Chicago, IL – Yesterday, Governor Rauner delivered his State of the State address, closing his remarks by speaking to the need for bipartisanship in order to return hope, opportunity, and prosperity to Illinois. We echo this call for collaboration and reiterate our plea for the Governor and state policymakers to work together to end the budget stalemate, and to chart a path forward for our state.
We applaud the Governor and state agencies for their leadership on taking steps to reform Illinois' behavioral health system. But there is so much work to do – we must pave the way for innovation and future cost savings by addressing mental health conditions before they become debilitating. System-wide changes to strengthen and improve mental health and substance use treatment are welcomed and long overdue. We look forward to working with the Governor, state agencies, and lawmakers to expand the availability of evidence-backed, life-saving treatment.
As one of Illinois' largest and longest standing community-based mental health providers, we must call attention to the reality that the budget crisis stands squarely in the way of realizing these reforms and jeopardizes access to treatment for the hundreds of thousands of Illinoisans.
This is an urgent matter.
For more than 18 months, Illinois has gone without a complete budget. A failure to agree upon and enact a fully-funded, balanced budget has left Thresholds and our fellow human service and healthcare providers across the state with delayed payments, millions in unpaid invoices, and a mountain of uncertainty. In the absence of timely and adequate funding from the state, we as providers struggle to continue delivering critical care that enables those with mental health and substance use conditions in communities across our state to achieve independence and reclaim their lives. Lives are at stake, and hundreds of jobs across sectors throughout Illinois are being lost to the budget impasse.
A budget resolution is imperative. It is incumbent upon the Governor and state legislators to do what is in the best interest of Illinoisans, and do so quickly. Anything less would be irresponsible and negligent. The future of our state hangs in the balance and continued inaction poses a direct threat to access to life-changing treatment and recovery. We are encouraged by recent movement in the Illinois Senate and hope that their work together represents the first step toward reestablishing negotiations and expediting the road to a full budget.
MEDIA CONTACT: Emily Moen, Director of Public Relations and Marketing, 773-572-5172