Thresholds to expand community-based housing, employment, and mental health services in Woodlawn
Thresholds to expand community-based housing, employment and mental health services in Woodlawn
Three new mental health outreach teams to begin using former Woodlawn Clinic location as office space in early 2014
For Immediate Release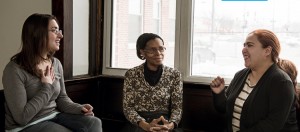 Chicago, IL – Thresholds, a Chicago-based leader in providing healthcare, housing, and employment for persons with mental illness, announced today that it will deploy additional mental health outreach teams to the Woodlawn area in early 2014 to increase its ability to deliver needed services to current and future clients in the community.
Three mental health outreach teams, each comprised of 5-7 Thresholds case managers, employment specialists, and mental health professionals, will have office space at the site of the former Woodlawn Mental Health Clinic at 6337 S. Woodlawn Avenue. The teams spend the bulk of their time out in the community delivering services using Thresholds' community-based mental healthcare model, and they will use the new office space for the administrative work that accompanies their outreach efforts.
Thresholds officials stressed that they are not replicating the services provided by the former Woodlawn Mental Health Clinic, nor will the new facility serve as a clinic. Thresholds will also have an advanced practice nurse providing psychiatric health care services one to two days per week.
"We believe that every person with mental illness should be provided access to appropriate care, supports, and services they need to achieve hopeful, successful futures," said Mark Ishaug, Thresholds CEO. "We look forward to expanding our capacity to serve the Woodlawn area by leasing and renovating this space."
Thresholds officials said that by moving their teams into the new location, they expect to be able to grow the existing caseload of the three teams by as many as 50 additional clients in the Woodlawn area, with the potential for future expansion. Thresholds currently serves hundreds of people in Woodlawn and surrounding communities including Hyde Park, South Shore, Englewood, Bronzeville, and Washington Park, among others.
Thresholds coordinates services for clients including case management, psychiatry, wellness activities and groups, primary health care, employment services, and housing. Its Supported Employment Program is a cornerstone of a diverse array of services.
The expansion of services to be delivered in the Woodlawn community also presents ample opportunities for Thresholds to strengthen partnerships both with the neighboring Woodlawn Health Care Center of Cook County and with local community groups.
"In communities throughout Chicago, it is critical to maintain and build a strong network of coordinated services – from mental health, to housing, to employment," said Ishaug. "Thresholds is looking forward to establishing itself as a major asset that can help rebuild and strengthen the mental health safety net in Woodlawn."
Thresholds has not yet taken occupancy of the building, which it will lease from the City of Chicago. After it takes occupancy, Thresholds will undergo a permitting process and renovations with the goal of using the space in early 2014.
# # #
About Thresholds: Established in 1959, Thresholds provides healthcare, housing, and hope for thousands of persons with mental illness in Illinois. Through health care, employment, advocacy, and housing, Thresholds assists and inspires people with mental illness to reclaim their lives.
Media Contact:
Emily Moen – 773-572-5172 (office), 715-308-1951 (cell), emily.moen@thresholds.org
Dave Bayless – 312-533-0059, baylessdave@gmail.com