Thresholds Woodlawn: Now Open

Thresholds' is proud to now have offices in the Woodlawn neighborhood. This new location will allow Thresholds to continue providing the surrounding neighborhoods with the best mental health services available. With additional outreach teams now based in the Woodlawn Adult Health Center (6337 S. Woodlawn Ave), Thresholds will be able to serve as many as 50 additional clients in Woodlawn, Hyde Park, South Shore, Englewood, Bronzeville, and Washington Park neighborhoods.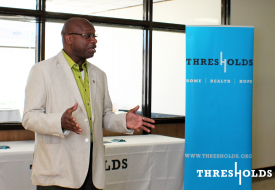 In attendance for the grand opening of Thresholds' Woodlawn office included Alderman Willie Cochran, Joe Hollendoner, first deputy commissioner for the Chicago Department of Public Health, representatives from the Network of Woodlawn, and Dr. Mason, the Cook County Health Clinical medical director. Thresholds acknowledges that our efforts to open offices in the Woodlawn neighborhood would not be realized without the immense support from our partners in health.
Thresholds coordinates services for clients including case management, psychiatry, wellness activities and groups, primary health care, employment services, and housing. Its Supported Employment Program is a cornerstone of a diverse array of services. Additional mental health outreach teams based in the Woodlawn area will increase its ability to deliver needed services to current and future clients in the community.
The expansion of services to be delivered in the Woodlawn community also presents ample opportunities for Thresholds to strengthen partnerships both with the neighboring Woodlawn Health Care Center of Cook County and with local community groups.
View the gallery of photos, and follow us on Facebook for more updates.