Working at Thresholds
Thresholds employees are real-life superheroes. Each staff member contributes to providing life-saving mental health services with heart and an unparalleled focus on recovery through innovative, evidence-based practices. We currently have 100+ open positions. To view jobs and apply for open positions and internships, visit our job opportunities page.
Named as number 6, the top listed non-profit, on the large employer list in the 2015 Chicago Tribune Top 100 Workplaces, and named one of Chicago's 101 Best and Brightest Companies to Work For in both 2014 and 2015, Thresholds follows our employee's example of excellence by going above and beyond to offer competitive benefits and compensation, and exceptional professional development opportunities. Plus, with over 225 promotions and transfers just last year, there's plenty of room to grow within the organization.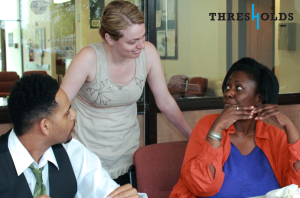 Thresholds is committed to creating a diverse environment and is proud to be an equal opportunity employer. For more about why Thresholds is a top work place, check out this video.
Additional Achievements:
Thresholds has been recognized with achievement awards from the American Psychiatric Association, the Substance Abuse and Mental Health Services Administration, the U.S. Psychiatric Rehabilitation Association, the National Alliance on Mental Illness and Chicago's 101 Best and Brightest Companies to work for from 2006-2011 and 2014.
For assistance, or accommodations with your application, please contact our Talent Management Team at (773) 572-5254.