Young Adult Program Sets Members Up for Success: David's Story
Young Adult Program Sets Members Up for Success: David's Story
Governor Rauner's proposed budget would eliminate DCFS services for 18-21 year olds – a population at an important juncture in their lives. Called the "transition cliff", research shows that intensive support during these early years of young adulthood are absolutely critical for kids dealing with mental illness and trauma. David, a 24-year old Chicagoan, was diagnosed with bipolar disorder when he was just ten years old and struggled to manage his illness throughout his teenage years. Recently, he was living in a nursing home for almost a year.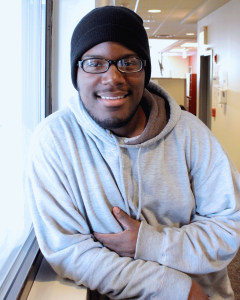 "I didn't want to be in a nursing home at this age, you know?" David says. "That's for old people. So I really wanted to get out but I didn't know no way out." David's nursing home had a program called "Moving On" to help residents transition back into the community. That's how David found out about Thresholds and their young adult program.
Thresholds' young adult program specializes in supporting young adults like David who are transitioning from the state's youth mental health and social services into programs that work with adults. He worked with Thresholds case managers who got to know David, and let him help set goals for his recovery. They asked David where he wanted to live, what he considered to be his greatest strengths and challenges, and how they could support him once he was living in the community.
Today, David receives individual therapy, group therapy, and case management services. He's discovering how he can use his skills to be successful, and is living independently in his own apartment in the Old Town neighborhood.
Now, David is focusing on the future. He wants to go back to school. He's especially interested in music, but is also considering a career in health care or technology. He dreams about forming his own gospel choir and recording songs. He credits Thresholds for getting him to this point. "The whole team together has done a magnificent job with community support, therapy, everything," David says. He says that Thresholds has helped him understand and manage his mental illness. "They care. And they help. One hundred percent."
David's is a story of successful services and intervention at exactly the right time. But if the proposed budget for Illinois passes, his story won't be possible for hundreds of kids who are facing extraordinary challenges. Make sure your voice is heard – tell your representatives that a revenue solution is needed to protect services. You can also sign up for action alerts so we can keep you updated as we fight to make sure David's story isn't a rare exception for Illinois' youth.