Donor Spotlight: Chicago Blackhawks
Donor Spotlight: Chicago Blackhawks
Chicago Blackhawks Charities, the official charity of the Chicago Blackhawks, supports programs and institutions throughout Illinois that create a better tomorrow. To do so, the organization focuses on health and wellness, education, and housing with the constant goal to serve local youth and their families.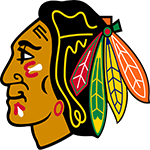 This past fall, the Chicago Blackhawks Charities made a $20,000 grant to Thresholds' Homeless Families Program, which supports families with parents who are experiencing mental illnesses and homelessness. The program works to address each family's immediate needs by linking them to an array of resources including: rapid, emergency housing followed by transitions into longer-term, family-friendly affordable housing; psychiatric care; integrated health care; childcare and child therapy; and Supported Employment services. By focusing on home, health, and hope, Thresholds Homeless Families Program helps break the cycle of homelessness, restores families, and places our clients on a solid path to recovery.
We are grateful to the Chicago Blackhawks Charities for their generous support. Thank you for believing in our work and, most importantly, in the people we serve.