Ensuring All Young People are Equipped to Live Well and Thrive: The Case for Expanding Early Treatment
By Thresholds' Program Director of Emerge and MindStrong, Jose Viruet
The transition into adulthood is often turbulent for many young people. For youth with mental health conditions, that transition can be even more difficult. To help ease the transition and ensure that all young people have what they need to succeed and thrive, early identification of mental health conditions and treatment that is tailored to the unique needs of youth and young adults are critical.
Emerging adults are in a period when they are navigating school, first jobs, blossoming social lives, romantic relationships, changing family connections, the desire for independence, and so much more. For some, the experience of these newfound challenges and responsibilities is further complicated by the onset of a mental health condition.
With this in mind, a comprehensive set of services delivered together as a package has been shown to be very effective for supporting young people learning to manage their mental health conditions. This type of approach helps stabilize the young person's condition, equip the family to better understand their child's condition, and set the youth up for a bright and healthy future. These youth-driven, wrap-around models are research-backed and considered best practice. They go beyond traditional methods of providing mental healthcare by building upon the basics of individual counseling and medication with impactful additions like group therapy, peer support, case management, family education, supportive education, supportive employment, and youth development opportunities.
Mental health conditions are highly treatable and recovery is possible. Particularly for young people at the beginning of their journeys, early treatment can make a lifetime of difference. Getting the right care at the right time can mean the difference between a longer, healthier life, the ability to engage positively at school, work, and home, and the risk of repeated hospitalizations, criminal justice involvement, homelessness, and disability. The good news is we know what works; we just need more of it.
Targeted treatment approaches are essential to supporting young people living with significant mental health conditions and to enabling them to live well and thrive. Successful treatment is not just about managing symptoms. It is also about managing all the ways those symptoms can affect a person's life and family, and equipping the person with the tools he/she needs to overcome those symptoms in order to meet his/her goals and excel. Sadly, there is not nearly enough early treatment available today and many young people are being left behind. More must be done to improve access to early treatment that works – there is simply too much at stake.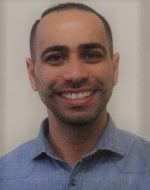 Jose Viruet is Program Director for Emerge and MindStrong, Thresholds' first episode psychosis treatment program. In this role, he leads teams of highly qualified of clinicians at our youth and young adult programs which focus on supporting young people with significant mental health conditions and their families. He is a Licensed Clinical Professional Counselor, a Certified Reciprocal Alcohol and Drug Abuse Counselor, and a longtime mental health and youth advocate. More on Thresholds' youth and young adult programs here.