Illinois Passes Short-Term Health Plans Law Safeguarding Consumers' Health Coverage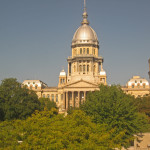 SPRINGFIELD – Yesterday, Illinois healthcare advocates won a major victory in the fight to protect health coverage for those with pre-existing medical conditions. The Illinois General Assembly overrode Governor Rauner's veto of a bill that will protect consumers by regulating short-term health insurance plans.
The bill, SB1737, which will now become law, will limit short-term plans that leave people at risk of expensive medical bills because they need care their plans do not cover.
Because of the efforts of healthcare consumers, providers, and advocates, Illinois is among a handful of states which have taken the lead in putting in place important protections to help healthcare consumers avoid the dangers of short-term health plans that often offer fewer health benefits. This is especially important now because these plans have been permitted to grow under a new federal rule.
As Illinois faces an ongoing mental health crisis and a deadly opioid epidemic, it is vital that people have access to the healthcare they need to be well, including mental health and substance use treatment. The passage of SB1737 is an important step in the right direction for protecting access to treatment in the state of Illinois.