Mental Illness Awareness Week: Ronald's Story

"The people that visit Thresholds, they all have a story. We all interact and we support each other. And I think that's the most important thing that is."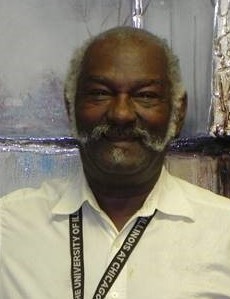 Ronald has spent much of his life caring for others, moving from job to job in order to support his family and keep a roof over his head. His father died when he was 17 and he fell into the role of head of household, taking care of a grieving mother while trying to manage his own growing depression. When telling his story, he speaks matter-of-factly, about his choice to support his family, work and take care of his mother without fully experiencing his grief about his father's passing.
"The grief stayed with me for a really long time."
He's worked in a number of places to support his family, honing skills at a steel mill and the US postal office. After work he would spend time playing with his daughter, who he adores.
"I really didn't concentrate too much on my illness. Mostly, I focused on supporting my family."
In 1985, Ronald's mother passed away and his depression got worst. He was hospitalized several times for mental illness and his worsening substance use disorder.
"I was introduced to Thresholds where I found support and acceptance and understanding, not only with my disabilities, but also with taking medication. I met a lot of wonderful people here who have supported me."
Ronald attributes taking his medication and support from peers as a combination that helps him stay healthy and feel supported.
"Since I've been on my new medication for the last 3-4 years. I have come to terms with my illness. I think medication is very important and it alleviates a lot of anxiety, fear and paranoia."
Ronald has been living in Ridgeview Nursing home for the last six years. He was recently accepted to the Moving On Program, which designates him as able to live independently in his own apartment. His strength in adversity, his acceptance of his mental illness, and the strong support system he's built for himself have helped him achieve his goal of having a place to call his own.
"Yesterday, I turned into an application for housing. I feel great."
Ronald has shown growth throughout his years while coming to terms with his mental illness and substance abuse. He displays insight that comes with great experience about peer support and taking medication that aids in reducing symptoms. He finishes his story with a simple, but profound statement that he hopes will help others that are finding their way to recovery.
"I've come a long way and I hope to share this with others."