My Love for Thresholds
By former Thresholds Board of Directors President, Marianne Doan
I have been honored to contribute to Thresholds in a variety of ways for almost 10 years. Before that time, I occasionally volunteered at a variety of organizations and donated to many causes that I felt were important. I started to feel that I wanted to really make a meaningful difference in the lives of others, and began to focus my time and donations.
There were so many opportunities, so I took some time to think about what really matters. I was so lucky to grow up in a big and loving family! Our oldest sister, Kathy, experienced a major trauma and the onset of mental illness in her mid-teen years. I remember vividly the way my friends looked at her and embarrassingly looked away, or how my brothers and sisters and I tried to avoid getting her upset. Kathy has lived her entire adult live with serious mental illness, and the continued stares and avoidance and neglect are hard to overcome. My parents raised us with strong family values of love for each other, service to others and constant pursuit of social justice. I wanted to give to an organization that shares these values and is committed to creating a future of hope and opportunity for people like Kathy. I fell in love with Thresholds and have been a donor ever since. This feeling grows every time I meet one of the Threshold staff, and I am inspired by their compassionate care!
Over the years, I have tried to share my passion with others in hopes that they, too, will give to Thresholds. I sometimes find a real hesitation, maybe even fear, to support mental health causes, due to the headlines that correlate mental illness and violence, and the stigma attached to it. But when I share stories about the clients Thresholds serves – young mothers and veterans and teens experiencing their first episode – and the services they provide – housing and supported employment – a funny thing happens. Literally everyone has a relative, friend or colleague who has been touched by mental illness. When you think about these people you know, and learn how Thresholds promotes dignity and provides opportunities for them to achieve self sufficiency, it is frankly hard not to give. When you think of it this way, it is more of an investment in our community with a pretty awesome return!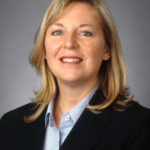 Marianne Doan has been a loyal supporter of Thresholds for more than a decade. She served as the President of the Board of Directors, and still remains on the board today.