President's Opioid Plan Must Go Further
Last week, President Trump declared the deadly opioid crisis plaguing communities across the nation a public health emergency. We commend the President for shining a spotlight on this epidemic. Opioid addiction has skyrocketed in recent years and tragically so too have the related overdoses and deaths.
The President highlighted his plans for addressing this critical issue which included lifting regulations that have historically posed barriers to accessing treatment. While this is an important step in the right direction, notably absent was the mention of any new investment in prevention or treatment. This is an unfortunate missed opportunity – without a substantial investment in addiction treatment, as well as related mental health treatment, the epidemic will continue to rage unabated.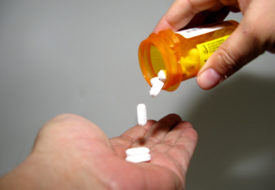 Current federal investment in strengthening the access to treatment made possible through the bi-partisan 21st Century Cures Act comes to an end next year. Meanwhile, Congress, with the support of the President, has continued to push for repeal of the Affordable Care Act (ACA) and catastrophic cuts to Medicaid – a primary source of health coverage for many living with substance use conditions and associated mental health conditions. Hundreds of thousands of Illinoisans with these conditions have gained access to treatment because of the ACA and Medicaid. Misguided attempts to dismantle the ACA and cut Medicaid threaten access to the very life-saving treatment that is needed to stem this epidemic.
We urge the President to build on his commitment to fighting the opioid epidemic by calling for investment in evidence-informed prevention and community-based treatment, ending attacks on the ACA and Medicaid, and promoting improved coverage for treatment.
The reality is the battling the opioid crisis will take time and significant investment at the national and state levels. By the President's own account, no community has been spared – both rural and urban, rich and poor alike have been devastated by opioid addiction. While recognizing the severity of the problem and removing administrative barriers to accessing treatment are important first steps, much more is needed.