Early Treatment Bill Heads to the Governor
Dear Advocates,
WE DID IT! Last night, the Illinois House passed the Children and Young Adult Mental Health Crisis Act (HB2154), groundbreaking legislation that will transform Illinois' early mental health treatment system. This initiative of the Healthy Minds Healthy Lives Coalition now proceeds to the desk of the Governor.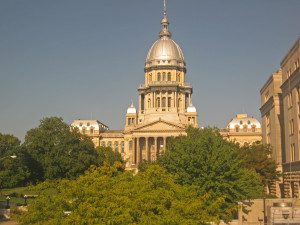 We had the opportunity to work closely with our partners at the Illinois Department of Healthcare and Family Services on this historic legislation and we are optimistic that Governor Pritzker will sign it into law marking a new chapter for the thousands of families touched by mental health challenges each year. Research tells us that most serious mental health conditions begin to manifest by age 24. Yet, sadly, our treatment system is not structured to respond to the realities of early onset conditions, leaving many to struggle combating their conditions for a lifetime.
This bill aims to change that story and to avoid preventable tragedy. The Children and Young Adult Mental Health Crisis Act shifts the focus from crisis and late stage services to support when symptoms first begin, by:
Restructuring the Family Support Program to prevent crisis by making a more robust set of services available sooner rather than later and strengthening family engagement
Improving access to preventative services under Medicaid and bringing together decision makers to coordinate investments and align systems
Expanding private insurance coverage to include team-based early treatment models proven to curtail the debilitating effects of serious mental health conditions
We owe a debt of gratitude to our fearless sponsors, Representative Sara Feigenholtz and Senator Heather Steans, who are true champions for mental health and whose steadfast leadership helped successfully steer us through the legislative process. We must also thank the Department of Healthcare and Family Services, Department of Human Services, and Department of Insurance for collaborating with us to position Illinois as a national leader in early mental health treatment. Finally, we are grateful to the advocates, people with lived experience, and providers around the state who worked so hard year after year to pave the way for this important piece of legislation.
When signed into law, Illinoisans will have access to preventative services and early treatment regardless of insurance type. We hope that this legislation will serve as a model for the nation so that all young people experiencing a serious mental health condition receive the comprehensive care they need to grow healthy and thrive.