Thresholds Applauds Governor Pritzker and Lawmakers for State Budget Increasing Investment in Treatment and Housing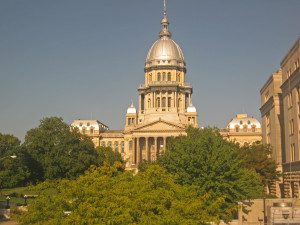 SPRINGFIELD – This weekend, lawmakers concluded their legislative session by passing bi-partisan legislation approving a $40 billion state budget for fiscal year 2020 (FY20), including some increases to funding levels for mental health and substance use services, supportive housing, and construction projects. Governor Pritzker has indicated that he intends to sign the plan into law – good news to healthcare advocates and providers throughout the state.
Funding increases include an additional $40 million for mental health and substance use services delivered through Medicaid, as well as $7 million in targeted new spending to bolster treatment in underserved communities. The proposal also calls for an additional $8.5 million for supportive housing.
There will be a state administrative process that is expected to take a few months for determining what specific mental health services will receive rate increases. We, therefore, are uncertain at this time whether Thresholds' services will be included, but we remain hopeful and will continue to fight for rates that cover the full cost of services.
The state legislature also approved nearly $45 billion to support capital projects like new construction, facility maintenance, and property acquisition, representing the first major capital infusion Illinois has seen in a decade. Thresholds is thrilled to receive $1.1 million for the establishment of a flagship integrated care center on the south side of Chicago and other projects aimed at expanding our capacity to serve in the city. The proposed budget is a stark departure from the austerity and turmoil that have plagued Illinois in recent years.
The FY20 budget, which is slated to take effect July 1, signifies a renewed commitment to strengthening the public services that are the foundation of healthy and vibrant communities across Illinois.
"Year after year, healthcare and human services have experienced chronic underinvestment that tragically prevented us from reaching the thousands who could benefit from treatment. The proposed new funding in the coming year's budget represents hope – hope that Illinois has finally started on the road to fiscal stability and a healthier future for all Illinoisans," says Mark Ishaug, Thresholds CEO.
Increased funding will be supported through a combination of new revenue sources, including the regulation of new industries and state fee adjustments. Legislators also passed legislation to allow voters the option of moving to a graduated income tax, also called the "Fair Tax," a structure similar to that used by the federal government and in numerous other states, including several in the Midwest region.
We are grateful to the members of the General Assembly for allocating additional funding to strengthen critical public investments and we thank Governor Pritzker for his vision and leadership during the budget development process. We are excited for the opportunity that the FY20 budget presents and we look forward to continuing to work with the Pritzker Administration and the legislature to grow access to treatment and housing so that all Illinoisans can live well and thrive.