Thresholds' Lisa Razzano, PhD Receives Promotion and APA Award
This summer, Dr. Lisa Razzano, Thresholds' Vice President of Research, received two distinctions. First, as a result of more than 26 years of service at the University of Illinois Chicago (UIC) Department of Psychiatry, Lisa was promoted to full professor. Full professor is an academic distinction recognizing the highest level of professional and independent scholarship. "It means a lot to me to reach full professor since only about 6% of tenured women faculty in psychiatry advance to this level." Dr. Razzano is author/co-author of more than 110 published studies regarding services research, physical and mental health co-morbidities, medication adherence, and workforce development. In addition to leading research at Thresholds, she also served as the lead (or co-lead) investigator for 7 federal Rehabilitation Research Training Centers and multiple other competitively awarded grants and contracts in her 30-year career.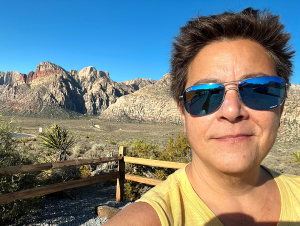 In addition to her promotion to full professor at UIC, Lisa was selected by the American Psychological Association (APA) to receive the 2022 Division 18 Michael S. Neale Award for Contributions by Psychologists in Public Service. This honor is named in memory of Dr. Neale and recognizes psychologists who have made substantial contributions to community mental health and the profession of psychology.
The Neale Award honors psychologists who contributed a body of work that has directly touched the lives of individuals with serious mental illnesses, and influenced a generation of practitioners, researchers, advocates, and administrators working to improve the lives of people in recovery.
"I am so grateful to be recognized by the APA not only for contributions to public service in community mental health, but particularly for my research programs on physical health conditions since they affect recovery for so many of our members. It's something I care deeply about and it's some of the most important research we conduct at the agency."
Join us in congratulating Dr. Lisa Razzano on these two incredible achievements.