Thresholds Statement on ACA Court Ruling
District Court Decision on ACA Jeopardizes Access to Treatment for Hundreds of Thousands of Americans Living with Mental Health and Substance Use Conditions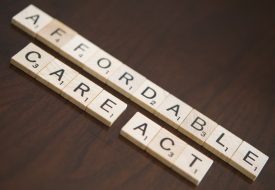 CHICAGO – Last Friday a federal district court judge in Texas ruled the Affordable Care Act (ACA) unconstitutional based on changes associated with the new tax law Congress passed last year. While this ruling does not have an immediate impact on the ACA or Medicaid – both remain the law of the land – the judge's decision, which will continue to make its way up to the U.S. Supreme Court, reinforces the need to continue strong advocacy to protect the ACA and access to healthcare.
The U.S. Supreme Court previously upheld the ACA in 2012 and again in 2015.
Today, more than 20 million Americans have healthcare coverage because of the Affordable Care Act, including millions with pre-existing conditions like mental health and substance use conditions.
Ensuring access to treatment is more important now than ever. Annual overdose deaths and suicides in Illinois each now outpace homicides. Illinois' suicide rate increased 23% between 1999 and 2016 and is the 3rd leading cause of death for young people between the ages of 15 and 34. And between 2013 and 2016, opioid overdose deaths in Illinois increased 82 percent.
The ACA not only paved the way for reducing the nation's uninsured rate to an all-time low, but also raised the bar for important consumer safeguards. Under the law, health plans must provide protections for those living with pre-existing conditions as well as a basic package of essential health benefits that includes mental health and substance use treatment.
"All people deserve access to affordable healthcare so they can live full and meaningful lives. We cannot afford to roll back the clock on health coverage and access to treatment – far too many lives are at stake," states Mark Ishaug, CEO of Thresholds. As this lower court decision makes its way through the system, we will continue the fight to preserve the ACA and Medicaid as we renew our call for elected officials to come together to strengthen the affordability and accessibility of healthcare – including mental health and substance use treatment – for all.