Center for Mental Wellbeing – Ravenswood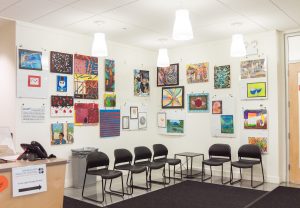 Thresholds' Center for Mental Wellbeing – Ravenswood is located in Chicago, Illinois. The Center for Mental Wellbeing is woven into the full array of Thresholds services available in the surrounding community for individuals with mental health and substance use conditions, providing a holistic focus that includes mental health, physical health, and whole-person wellness.
---
Thresholds Center for Mental Wellbeing – Ravenswood is committed to providing accessible, person-centered, evidence-based care individualized to meet the needs of those we serve. We prioritize the integration of services, collaboration with community partners, and a holistic approach to wellness. We offer a range of services tailored to address the diverse needs of individuals on the North Side of Chicago.
Our Centers for Mental Wellbeing are committed to providing care regardless of ability to pay, and care for those who are underserved, low income, are insured, uninsured, or on Medicaid.  We offer a sliding scale program that provides discounted services to individuals based on family size and income.
We do offer mental health crisis services, however if you are experiencing a mental health crisis, please call 988.  More information on 988 services can be found here. If you are experiencing a medical emergency, please call 911.
Mental Health Services
assessments, individual and group therapy, crisis intervention, psychiatry, medication management
Substance Use Treatment
screening, linkage to medication-assisted treatment, counseling, relapse prevention
Care Coordination and Case Management
personalized care plans, coordination of services across providers, access to community resources and support
Crisis Services
crisis hotline, crisis stabilization, coordination with emergency departments
Psychosocial Rehabilitation
education and employment support, housing assistance, community support, and social skills development
Peer Support Services
certified peer specialists, guidance and encouragement, advocacy and empowerment
Primary Care Integration
physical health assessment and screening, chronic disease management, linkage and care coordination with primary care providers
---
To access services, explore partnership opportunities or for more information, please contact us at (773) 572-5500 or intake@thresholds.org.
Thresholds
Center for Mental Wellbeing – Ravenswood
4423 N. Ravenswood Avenue
Chicago, IL 60613