Remembering Jim Mabie, 1935-2021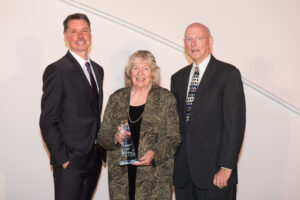 The entire Thresholds community is deeply saddened by the passing of Jim Mabie on May 8, 2021.
Jim was a loving family man and successful businessman, and his legacy will carry on for generations because of his tireless civic engagement and generous philanthropic investment in dozens of diverse organizations and causes.
Jim Mabie served on the Thresholds board of directors from 1978-2008, including as chair of the board, and was given the title of Life Director in 2008. When Jim joined the board, Thresholds was a small organization with grand plans to serve persons with serious mental illnesses – but in the community instead of institutions. Jim fully supported what was a radical idea at the time – that persons with mental illnesses could and should live independent lives as full members of their communities.
"On the Thresholds board, Jim insisted on fiscal rigor, and asked hard operational questions that set the organization on the path to become the strong, fiscally responsible organization that it is today," says Ron Grais, Thresholds board member and longtime friend of Jim. "He was instrumental in building a strong board, drawing heavily on the financial services industry. Even then, he understood the need for constant attention to succession, so that the organization could continue to grow and expand to serve more clients."
"Jim Mabie was a deeply kind person who believed in expanding accessibility and opportunity for all," says Mark Ishaug, Thresholds CEO. "Jim's four-decade commitment to Thresholds has allowed us to innovate, to expand our reach, and to change laws and systems – all to ensure home, health, and hope for thousands of people each year."
Jim Mabie's philanthropic work was expansive, including leadership roles with the Chicago Symphony Orchestra, Lyric Opera of Chicago, WTTW-WFMT, WBEZ Public Radio, Old Town School of Folk Music, StreetWise, and the Night Ministry. One of his proudest achievements was co-founding the Chicago High School for the Arts (ChiArts).
Jim will be dearly missed by his Thresholds family and countless others. You can download a full tribute to Jim's life and legacy on the Chicago Capital website here.