Thresholds Health Literacy Center
Simple tools. Healthier lives.
The Thresholds Health Literacy Center (HLC), funded by the National Institute on Disability, Independent Living, and Rehabilitation Research (NIDILRR, 90DPHF0001), focuses on health and wellness among individuals with serious mental illness who live with other co-occurring disabilities and physical health conditions. The HLC has a specific interest in health literacy and promoting wellness as a means to enhance mental health recovery, function, and community participation.
The research and developmental activities included in the HLC focus on three projects: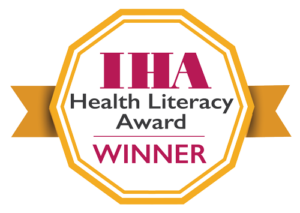 Project 1 is an exploratory longitudinal study of chronic physical health conditions among individuals with psychiatric disabilities, focusing on health screening and management of chronic health and utilization of health services over two years.
Project 2 focuses on improving health literacy and promoting wellness among individuals with psychiatric disabilities and workforce providers. This second project builds on findings from the longitudinal health study to develop, evaluate, and disseminate a comprehensive, coordinated series of health literacy and wellness promotion modules and tools. These materials integrate components specifically relevant to illness risk and health management for the target population and the behavioral health workforce.
Project 3 focuses on developing, pilot testing, refining, and disseminating state-of the-science skills modules focused on promoting health, improving wellness, and addressing needs related to reproductive health, sexuality, and sexual behaviors among diverse individuals in recovery.
Download free materials from the Thresholds HLC and visit our online health webinar library at the links below:
---
Thresholds HLC Health Awareness Tools


(all files are downloadable PDF)
Digital Health Tools
T
hresholds HLC Webinar Library
Fruit or Vegetable of the Month Resources


(all files are downloadable PDF)