Thresholds CEO Mark Ishaug Named to Daniel Burnham Fellowship group by Leadership Greater Chicago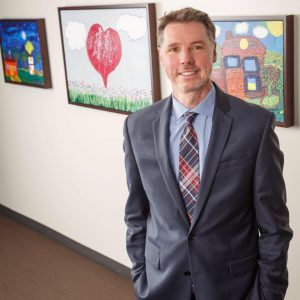 Congratulations to Thresholds CEO Mark Ishaug, named a participant of the inaugural class of the Daniel Burnham Fellowship – a civic engagement experience by Leadership Greater Chicago. This fellowship is for senior executives in Chicago who want to gain deeper understanding and knowledge of the city, its networks, and business community. These leaders will use their combined influence and intellect to positively impact the city of Chicago.
A group of 19 senior leaders from diverse backgrounds and a wide range of industries will join Ishaug and come together on Thursday, February 7th to begin this five-session series. Through urban planning, strategic partnership and collaboration, and innovative problem-solving, this group will be a driving force behind changes needed most in Chicago.
Leadership Greater Chicago is the region's premier convener, connector and mobilizer of bold leaders, building capacity across the private, nonprofit and public sectors to effect transformative civic impact in Greater Chicago.​
2019 Daniel Burnham Fellows:

Rod Adams – US/Mexico Talent Acquisition Leader, PwC
Pat Barrett – Executive Vice President and Chief Financial Officer, First Midwest Bancorp Inc.
Joe Dominguez – Chief Executive Officer, ComEd
Michael Ericson – Executive Vice President, Federal Home Loan Bank of Chicago
Sean Garrett – President and Chief Executive Officer, United Way of Metro Chicago
Kate Gebo – Executive Vice President of Human Resources and Labor Relations, United Airlines
Evan Hochberg – President, Crown Family Philanthropies
Mark Ishaug, M.A. – Chief Executive Officer, Thresholds
John Latessa, Jr. – President, Midwest Division, CBRE, Inc.
Sandra Cordova Micek – President and Chief Executive Officer, WTTW | WFMT
Eileen Mitchell – President Illinois, AT&T
Allyson Park – Global Vice President, Mars Wrigley Confectionery
Matt Primack – President, Advocate Christ Medical Center
Jacqui Robertson – Global Head of Talent, Diversity & Inclusion, William Blair
Jayne Rosefield – Partner, Office Head, Brunswick Group
Megan Ross, Ph.D. – Zoo Director, Lincoln Park Zoo
Amiee Thomas – Senior Vice President, Store Operations, Ulta Beauty
Maggie Westdale – Business Chief Financial Officer, Aon
Betsy Ziegler – Chief Executive Officer, 1871
Ankara mutlu son
Antalya mutlu son
Muğla mutlu son
Eskişehir mutlu son