Illinois Inaugurates JB Pritzker as New Governor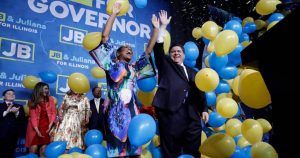 SPRINGFIELD, IL – Thresholds congratulates Governor JB Pritzker on being sworn into Illinois' highest office yesterday in Springfield. We are excited about the tone of bipartisanship and optimism he is setting as he begins his term. Notably, during his campaign, Pritzker made mental health and substance use special areas of focus – an encouraging sign he is committed to prioritizing these issues.
Another central issue of Pritzker's campaign was establishing a fairer income tax structure for all Illinoisans that also will generate increased state revenue to support critical public services. As new leaders take office, we encourage the Governor and the General Assembly to work together to secure new and sustainable revenue. This revenue is necessary to strengthen Illinois' challenged health, human services, and housing systems.
We are hopeful that this change in leadership marks a new chapter for Illinois. We look forward to the opportunity to serve as a resource and a partner in building a better, brighter, and more prosperous future for all Illinoisans.
The Governor's inauguration follows that of the members of the state legislature who were sworn into office last week. The full text of the Governor's inaugural speech is available here.
İstanbul mutlu son İzmir mutlu son Çanakkale mutlu son Tekirdağ mutlu son