Thresholds' Statement on Governor Pritzker's Budget Address
With the need for treatment at an all-time high, Thresholds applauds Governor Pritzker for committing to an additional $140 million to meet the behavioral health needs of communities across Illinois in his proposed budget today, as well as $40 million for innovation. We stand with Governor Pritzker, as we do with House Majority Leader Greg Harris and Senator Elgie Sims, who are championing increased investment in mental health and substance use treatment in the General Assembly.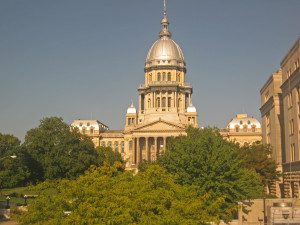 We are also extremely encouraged that the Governor committed to appointing a Chief Behavioral Health Officer to work with the multiple state agencies and stakeholders to develop a vision for growing access to treatment in every corner of our state and working to implement that vision. It is more important now than ever to get ahead of the state's growing mental health and overdose crises. Thank you to Rep. Deb Conroy and Senators Laura Fine and Sara Feigenholtz for your determination to establish this position.
Mental health and substance use treatment has been out of reach for hundreds of thousands of Illinoisans even before the COVID-19 pandemic hit, with just 23% of the state's residents who need services able to access care.
The pandemic has had a devastating impact on the mental health of every age group and community in Illinois, with the rates of psychological distress and drug overdose skyrocketing since 2020. The number of adults experiencing anxiety or depression has more than doubled during the pandemic, and overdose deaths spiked 33% during 2020, killing 2,944 Illinoisans.
Yet treatment remains out of reach for most because providers are not able to hire and retain staff to meet community needs with existing state funding, exacerbating the crisis. In fact, over 4.8 million people in Illinois live in a community that does NOT have sufficient mental health professionals.
We are grateful for the leadership of the Governor, Leader Harris, and Sen. Sims for their commitment to tackle this crisis head on and invest in the people of Illinois who need mental health and substance use services. Thresholds is and will remain a strong partner with the Pritzker Administration, the General Assembly, and advocates across the state through the Rebuild Illinois Behavioral Health Workforce Coalition to ensure these investments are solidified in the final state budget.
"As one of oldest and largest providers of mental health and substance use treatment services in Illinois, we know that recovery for our clients is possible with the right public sector investment," said Mark Ishaug, Thresholds CEO. "In turn, investing in these services is also an investment in better health in our communities."