Artists First: 25 Years of Studio Art at Thresholds, An Exhibition at the Chicago Cultural Center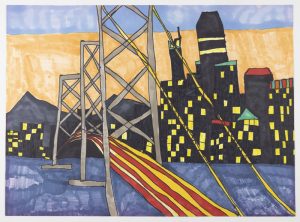 Artists First, is a celebration of art by artists connected to Thresholds in the past 25 years.
This exhibition, free to the public, introduces a compelling group of artists who are living with the daily challenges of mental health and substance use conditions, making work that speaks to our shared humanity and intersectional diversity. It also connects Thresholds artists' work within the breadth of contemporary visual art practice in the Chicago area.
The exhibition further celebrates the founding of Thresholds' artist programs in 1997 and the creative and therapeutic legacy that these programs have built throughout the years. We hope that you will stop by the Chicago Cultural Center to take in this beautiful exploration of work from Thresholds artists. 
The exhibition will run from Oct. 1, 2022 through Jan. 8, 2023 open from 10am – 5pm daily (Oct. 1, 2022 Opening from 1-4pm) at the Chicago Cultural Center.
Posted In: News