Thresholds Receives $2 Million to Support Expanded Mental Health and Substance Use Treatment Services
Federal grant awarded to Thresholds will enable them to adopt the innovative Certified Community Behavioral Health Clinic (CCBHC) model
Media Contact: Emily Moen, 773-572-5172
CHICAGO, ILLINOIS, September 23rd, 2022—The federal Substance Abuse and Mental Health Services Administration (SAMHSA) awarded two grants to Thresholds this week totaling $2 million per year for up to 4 years, allowing Thresholds to implement the Certified Community Behavioral Health Clinic (CCBHC) model for care delivery on Chicago's North Side and in McHenry County.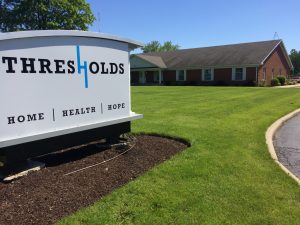 With this new funding, Thresholds is among the first CCBHCs in Chicago. It now has the opportunity to expand services to serve as a "one-stop shop" for mental health, substance use treatment and other health care services in their communities. The CCBHC model ensures access to 24/7/365 crisis care, care coordination with hospitals, law enforcement and schools and access to high-quality services, including medication-assisted treatment (MAT) to help stop the overdose crisis, among other capabilities.
"Thresholds is thrilled to launch two CCBHCs in Illinois to provide a wide range of mental health and substance use treatment services to even more people that otherwise would not be able to access them. We consistently see that the need for high-quality, wide-ranging mental health services outstrips our capacity," says Mark Ishaug, Thresholds CEO. "We applaud all the lawmakers that have supported expanding services through the CCBHC model."
"We know that mental health and substance use treatment encompass far more than psychiatry or therapy, and the increased care coordination in the CCBHC model will further strengthen Illinois' network of services," says Debbie Pavick, Thresholds Chief Clinical Officer. "CCBHCs are another step towards strengthening our state's mental health safety net."
Thresholds will also partner with Aunt Martha's Health and Wellness and Rosecrance in McHenry County and Heartland Health Centers in Chicago to provide primary care and substance use treatment to youth and adults through the CCBHC model.
*****