Chicago Tribune Names Thresholds a Winner of the Chicagoland Top Workplaces 2023 Award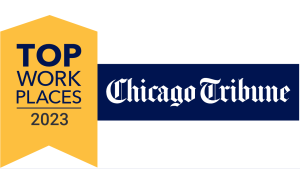 Thresholds has been awarded a Top Workplaces 2023 honor by Chicago Tribune Top Workplaces. The list is based solely on employee feedback gathered through an anonymous third-party survey. This is Thresholds' 10th year in a row being named to the list. This year, Thresholds ranks #12 in the large companies category.
"Being on this Top Workplace list is a testament to the compassionate and caring culture that our employees create here every single day. It's a testament to their commitment to our clients and our mission," says Mark Ishaug, Thresholds CEO.
Thresholds employs more than 1,200 staff in Chicago and the surrounding counties in a diverse set of roles ranging from finance and administration to front line clinical social workers who provide case management and other services for people living with serious mental illnesses and substance use conditions.
"Earning a Top Workplaces award is a badge of honor for companies, especially because it comes authentically from their employees," said Eric Rubino, Energage CEO. "That's something to be proud of. In today's market, leaders must ensure they're allowing employees to have a voice and be heard. That's paramount. Top Workplaces do this, and it pays dividends."
---
About Thresholds: Established in 1959, Thresholds provides healthcare, housing, and hope for thousands of persons with mental illnesses in Illinois each year. Through care, employment, advocacy, and housing, Thresholds assists and inspires people with mental illnesses to reclaim their lives.
Thresholds is one of the oldest and largest providers of recovery services for persons with mental illnesses in Illinois. We reject the notion that anyone is a lost cause, utilizing evidence-based practices and a wide range of supports to treat the whole person, rather than just the disease.
We offer 25 innovative programs at more than 70 locations throughout Chicago, the adjacent suburbs, and McHenry and Kankakee Counties. Services include assertive outreach, case management, housing, employment, education, psychiatry, primary care, substance abuse treatment, and research. Last year, Thresholds served more than 7,000 adults and youth, with 75% of services delivered out in the community, representing more than 400,000 hours of care.
Contact: Emily Moen, VP PR & Marketing,  773-572-5172
Posted In: News